Wednesday, February 12, 2014
Perdue Entrepreneurship Competitions Offer $50K in Prizes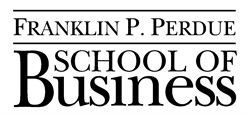 SALISBURY, MD---Have an idea to create a new business or transform an existing one? Want to win a share of up to $50,000 in cash and prizes?

Salisbury University students across all majors are invited to participate in the Franklin P. Perdue School of Business' 2014 Entrepreneurship Competitions on Friday, April 11.

"A poster, a pitch and a plan are all that is needed," said SU Perdue School professor William Burke, competition director. "Last year, students earned $27,300 in cash and prizes and the Bernstein Achievement Award for Excellence winners are successfully expanding their Quikshakes business across Maryland."

The competitions start with an Invest in My Idea poster session that allows all participants to visually share their business ideas for awards and prizes.

Fifteen winners move on to the Gull Cage. This "shark tank" competition allows one minute for delivering verbal pitches about the ventures and four minutes for answering judges' questions. Prizes include $4,000 for first place; $3,000 for second; $2,000 for third; and $1,000 for fourth.

These top four finalists move on to the annual Bernstein Award competition. Vying for a grand prize of $10,000, they will have 20 minutes for their presentations and to answer questions about their full business plans.

To help interested students, an information session is 3:30 p.m. Tuesday, February 18, in Perdue Hall Room 362. The Small Business and Technology Development Center also offers a "Plan, Poster and Pitch Session" 3:30 p.m. Tuesday, March 4, in Perdue Hall Room 362.

To enter the competitions, students must submit an online application and business plan, including exhibits and poster, via the links on the Entrepreneurship Competition website by midnight Friday, March 24. Practice sessions are March 26-April 9.

For more information visit www.salisbury.edu/perdue/EntrepreneurshipCompetitions, or contact Burke at 410-677-5386 or wpburke@salisbury.edu.