Thursday, April 17, 2014
Perdue Entrepreneurship Competitions Award Nearly $60K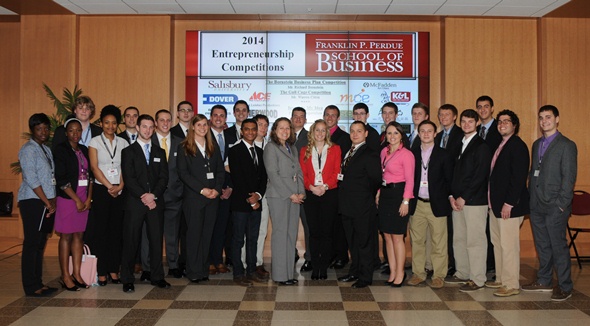 SALISBURY, MD---The proverb, "If at first you don't succeed, try, try, try again," rings true for entrepreneurial-minded students at Salisbury University.
Last year, management major Nick Simpson earned $3,000 in the Franklin P. Perdue School of Business' Entrepreneurship Competitions when he premiered Bounce, an app designed to connect nightlife businesses and consumers.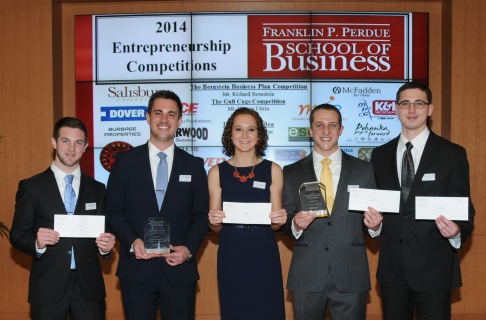 But that wasn't good enough. Simpson wanted to win the grand prize, the $10,000 Bernstein Award, to support the venture.

So the Ellicott City native and his business partner, Ryan Nuzum, a West Virginia University graduate, worked for the past year to improve their plans.

The efforts paid off. They won some $15,600 in cash and consulting services during SU's 2014 Entrepreneurship Competitions.

"We weren't just in it for the contest; we really cared about the judges' feedback," said Simpson, now a senior. "The advice you get is so valuable, and we already have about five follow-up meetings planned with contacts we made."

He said the Bounce team, which also includes SU students Laura Thornburg and Nick Giambra, and Allen Butler of Longwood University, hopes to continue working on app development and programming over the summer and then move into beta testing.

SU alumnus Kevin Bernstein '92, vice president of strategy at LWRC International in Cambridge, was one of three judges for the Bernstein Award, the portion of the competition that for more than a quarter century has been supported by his father, Richard, a 1976 SU graduate and the founder of companies including K&L Microwave, Inc. in Salisbury.

"When my father started his businesses, he didn't have this kind of program and this kind of opportunity to be mentored," Bernstein said. "You have to leverage this environment ... and take chances."

Overall, student competitors walked away with nearly $60,000 in cash, services and prizes, including 30 earned awards and eight raffles.

"What I saw is focus," said judge Mike Cottingham, president/CEO of Rommel Holdings. "You were poised; you were polished. You explained why SU is a rising university and the Perdue School is a rising business school."
The day started with an "Invest in My Idea" poster session in Perdue Hall's Atrium and first floor. After review by some 29 judges, 15 teams advanced, earning $600 each and a spot in the second round "Gull Cage." This Shark Tank-style event involved one-minute pitches, followed by four minutes of rapid-fire questions from judges.
Senior management major Jason Rogewitz of Salisbury called the experience "nerve wracking," adding, "it's fast; the clock is ticking." His UrBowl pasta shop business partner Chris Himberger, a sophomore accounting/finance major from Bethpage, NY, said: "You want to answer questions effectively, but at the same time you want to answer as many questions as possible."
All Gull Cage prizes again were provided by supporter Warren Citrin, co-founder of Solipsys, Gloto, Redox Power Systems and fractograf.
First place and $4,000 went to Bounce, while second place and $3,000 went to FedXmas, a Christmas tree delivery service proposed by another returner, Brendan Guihen, a junior communication arts major from Silver Spring, along with Imoleayo Alabi, a junior finance major from Salisbury. UrBowl earned third place and $2,000; fourth place and $1,000 went to Werk, LLC, a part-time job website proposed by freshmen Aaron Wall, Kyle Cooper, Peter Baum and Matthew Lange.
These four Gull Cage winners then moved on to present their full business plans during the afternoon Bernstein competition.
Judge Steve Evans, CEO of Allen Harim Foods, apologized to all the competitors for asking some of the tough questions they faced, but, he emphasized, that's how "you get better." He added: "We are extremely impressed. You get a lot of real experience here and that's what you need."
Several special awards were distributed at the event, including two new $5,000 "best product" prizes provided by Bob Livingston of Dover Corporation and Dave Howett of K&L Microwave. Presented after the poster competition, they went to a glass company proposed by Phillip Valencia, a senior management major from Salisbury, and Chesapeake BIOFuel, created by Lori Defnet, a senior accounting major from Poolesville, with Richard Baldwin, a senior management major from Berlin. Defnet and Baldwin also earned $3,000 in services from Mark Leisher Productions.
The Salisbury Area Chamber of Commerce and Salisbury-Wicomico Economic Development also awarded $5,000 in services including consulting and rent-free space to ADarchy, LLC, proposed by Jonathan Pilchard, a senior accounting major from Salisbury and his business partner, Trey Mullady.
The Werk team, as the second place Bernstein Award winner, also earned $1,500 cash and an additional $3,500 in consulting from Maryland Capital Enterprises, as well as a membership to hotDesks.org, the Eastern Shore's first co-working space, from the Eastern Shore Entrepreneurship Center (ESEC).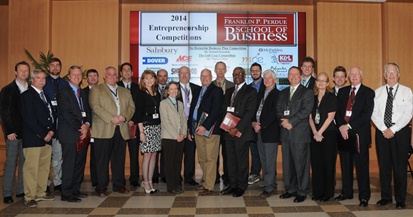 Competition judges included many SU graduates, past winners and Perdue School Executive Advisory Council members who are successful entrepreneurs and executives at regional and national companies and organizations.
They also represented some of the event's sponsors, which at the Gold level included Bank of America, Burbage Properties, Inc., ESEC, First Shore Federal, Gillis Gilkerson Inc., Layton's Chance Vineyard & Winery, Leverage Mobile, Sherwood of Salisbury, TEDCO and Yard Designs, Inc. Silver sponsors were Pohanka of Salisbury and Comprehensive Financial Solutions; bronze sponsors were Chesapeake Utilities and the Strategic Wealth Management Group.
Other donations and prizes came from ACE Hardware, A.I.R. Lawn Care, Burley Oak Brewing Company, Caroline Economic Development Corporation, fractograf, J.L. Wilson, McFadden Art Glass, the Paper People and Tri-Dimension.
For more information or to become involved next year, contact William Burke, competition director and Perdue School professor, at 410-677-5386 or wpburke@salisbury.edu, or visit www.salisbury.edu/perdue/EntrepreneurshipCompetitions.