Wednesday, July 5, 2017
Patricia R. Guerrieri Academic Commons Earns LEED Gold Certification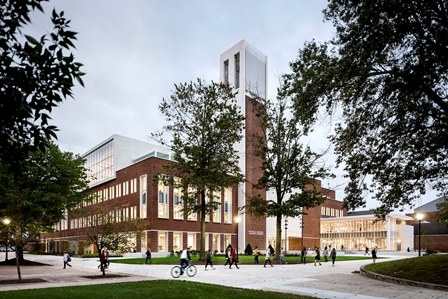 SALISBURY, MD---Salisbury University's Patricia R. Guerrieri Academic Commons has earned Leadership in Energy and Environmental Design (LEED) Gold certification from the U.S. Green Building Council.

The announcement follows the building's receipt of the 2016 Wintergreen Award for Excellence in Green Building in Education from the council's Maryland chapter earlier this year.

"With a campus just miles from the Chesapeake Bay, we at Salisbury University are keenly aware of the importance of sustainability," said SU President Janet Dudley-Eshbach. "Publications including The Princeton Review have recognized the University as one of the nation's 'greenest' campuses, and have praised our academic and extra-curricular programs that stress sustainability, SU's forward-looking ecological policies and the campus' thoughtfully designed infrastructure. Achieving LEED Gold certification for our newest and most state-of-the-art building is a great honor. We want to continue to lead by example for students and the community when it comes to 'smart' growth."

"This certification continues an era of construction sustainability at Salisbury, an extension of the American College and University Presidents Climate Commitment pledge signed by President Janet Dudley-Eshbach in 2007," said Eric Berkheimer, SU associate vice president of facilities and capital management. "With the Patricia R. Guerrieri Academic Commons, our team went above and beyond, installing sustainable features that make it unique among buildings on campus."

At the top of those elements — literally — is a 20,000-square-foot "green roof," comprised of sedum and other regional low-growing plants, covering much of the surface. They act as a collection and filtration system, absorbing and cleaning rainwater before a system of stone and concrete collectors distributes it back into the ground, significantly reducing runoff. The plant cover also serves as a natural buffer between the roof and sun, providing an interior cooling effect.

Inside, LED illumination not only uses less energy than traditional bulbs, but provides a spectacular effect in areas such as the main entryway. There, vertical light fixtures make an aesthetic — as well as environmental — statement.

In addition, paneling in the structure's dining areas was created using recycled paper (including the fronts of the built-in recycling bins). Paint, carpeting and other construction elements were selected with an eye toward those with a low rate of volatile organic compound emissions. Materials were sourced locally when possible. The large sun screen covering much of the building's exterior facing campus, for example, was built by Crystal Steel in Delmar, DE. It reduces fuel use and subsequent emissions.

These are just some of the environmental features of the $117 million, four-story, 221,000-square-foot building, the largest academic construction project in SU's history.

With this recognition for the Guerrieri Academic Commons, the campus now features a milestone 10 LEED-certified buildings. Others include Conway Hall (the Eastern Shore's first LEED-certified new construction project), Perdue Hall, Sea Gull Square, and the Pocomoke, Wicomico, Nanticoke, Manokin, Choptank and Chester residence halls.



For more information call 410-543-6030 or visit the SU website at www.salisbury.edu.