Wednesday, August 23, 2006
Paper Cutting Exhibition of China Comes to SU September 1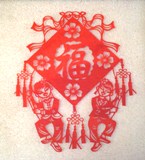 SALISBURY, MD---A sixth century northern Chinese art form enters the 21st century at Salisbury University's Center for International Education, 1106 Camden Ave., with the Paper Cutting Exhibition of China, opening Friday, September 1.

Part of SU's "Artists of Asia" fall cultural events series, the exhibit continues through Friday, September 29. Center hours are 8 a.m.-5 p.m. Monday-Friday.

In ancient times, paper cutting was a fundamental part of every girl's childhood as a craft to be mastered to improve the quality of life and the attractiveness of the home. It was also used as a measure of her worth as a bride.

Today, professional paper cutters are almost always men who create their art in workshops. Skilled artists use either knives or scissors to cut their designs in several styles using only four ideal but basic lines. No matter how simple or complex, every design must be formed as an unbroken, continuous cut. Parts of the pattern that are cut away are removed with a pin.

Paper cuttings were used for decoration on walls, windows, doors, columns, mirrors and lanterns and as patterns, especially for embroidery and lacquer work. The art form also was used for religious purposes, with pieces originally buried with the dead or burned at funeral ceremonies and as sacrificial offerings to ancestors and gods.

Paper cutting artwork has special significance at festivals and on holidays where patterns can be used to represent good luck, long life, love and bountiful harvest. Today, as in ancient times, paper cutting is a highly technical art form requiring creativity, skill and experience and is a very distinctive visual art of Chinese handicrafts.

This exhibit is made possible by the Embassy of the Peoples Republic of China, Salisbury University and World Artists Experience, Inc., as part of the SU Ambassador Series.

Admission is free and the public is invited. For more information call 410-219-2872 or visit the SU Web site at www.salisbury.edu.