Friday, October 12, 2012
PACE Hosts Same-Sex Marriage Forum Monday, October 15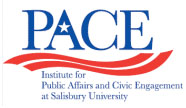 SALISBURY, MD---When Marylanders go to the polls this November, they will vote on several important state issues, including the legalization of same-sex marriage.
Salisbury University's Institute for Public Affairs and Civic Engagement (PACE) hosts a forum to better educate voters on the issue 7 p.m. Monday, October 15, in the Wicomico Room of the Guerrieri University Center.
In celebration of Constitution Day, the forum also will examine the constitutionality of same-sex marriage from several points of view.
Panelists include National Organization for Marriage founder Maggie Gallagher; Dr. Odeana Neal, associate professor of law at the University of Baltimore; Derek McCoy, executive director of the Maryland Marriage Alliance; and James Ireton Jr., representing Equality Maryland.
Gallagher is a nationally syndicated columnist and the author of four books on marriage, including the recently released Debating Same-Sex Marriage, written with Professor John Corvino for Oxford University Press.
Neal is a constitutional expert, specializing in sexual orientation and the law and human rights, among other areas. She has written for numerous law journals and is a member of the bars in Massachusetts and Washington, D.C.
McCoy is an associate pastor of Hope Christian Church in Beltsville, MD. Founded in 2011, the Maryland Marriage Alliance seeks to uphold marriage as a union between one man and one woman, and to express opposition to efforts that would redefine that union under state law.
Ireton is the mayor of Salisbury and a teacher at Glen Avenue Elementary School. Equality Maryland is an advocacy organization promoting the civil rights of the state's lesbian, gay, bisexual and transgender (LGBT) community.
Equality Maryland was part of the coalition that promoted the passage of the Maryland Civil Marriage Protection Act, which was signed into law earlier this year. Voters are being asked to vote for or against the law on a referendum during the November election.
"We are fortunate to have a panel of such knowledgeable individuals with rich backgrounds on both sides of this issue," said Dr. Adam Hoffman, PACE director, who moderates the forum. "We welcome them as we host this evening of civil discourse."
Admission is free and the public is invited. For more information call 410-543-6030 or visit the SU Web site at www.salisbury.edu.