Wednesday, October 3, 2012
PACE Hosts Dream Act Forum Wednesday, October 3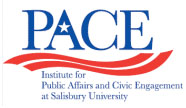 SALISBURY, MD---This November, voters decide whether children of undocumented immigrants will be eligible for in-state tuition at Maryland's colleges and universities as the Maryland Dream Act goes to referendum.

Salisbury University's Institute for Public Affairs and Civic Engagement (PACE) holds a forum to better educate voters on the issue 7 p.m. Wednesday, October 3, in the Wicomico Room of the Guerrieri University Center.

Panelists include Maryland Delegates Ana Sol Gutierrez (D-18 Montgomery) and Patrick McDonough (R-7 Baltimore and Harford), CASA de Maryland Political Director Kim Propeack and Federation for American Immigration Reform (FAIR) Communications Director Bob Dane. PACE co-founder and SU professor of philosophy emeritus Fran Kane moderates.

A native of El Salvador, Gutierrez was elected to the Maryland House of Delegates in 2002. A past member of the Governor's Commission on Hispanic Affairs and former Montgomery County Board of Education president, she now serves on the House Appropriations Committee, among others.

McDonough originally served as a member of the House of Delegates from 1979-1983 and was re-elected to the House in 2002. He is a member of the House Health and Government Operations Committee and Maryland Rural Caucus, among others.

Propeack has served as CASA's political director since 1999. The organization assists low-income Latino and immigrant communities throughout the state through programs promoting English for Speakers of Other Languages, classes, employment placement, legal services, health education and advocacy.

Dane joined FAIR in 2006 after 20 years in the radio broadcast industry. The organization's initiatives include increasing border security, curtailing illegal immigration and promoting lower immigration rates.

Admission is free and the public is invited. For more information call 410-677-5045 or visit the SU Web site at www.salisbury.edu.