Monday, September 22, 2014
PACE Hosts Candidate Meet-and-Greet Thursday, October 2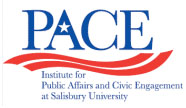 SALISBURY, MD---Salisbury University's Institute for Public Affairs and Civic Engagement (PACE) hosts a meet-and-greet with candidates running for local and state elected offices 11 a.m.-2 p.m. Thursday, October 2, in Red Square.

Candidates expected to attend include Addie Eckardt (R, MD-37), Chris Adams (R, MD-37B), Johnny Mautz (R, MD-37B), Carl Anderton (R, MD-38B), Norman Conway (R, MD-38B), Mary Beth Carozza (R- MD-36C), Judy Davis (D, MD-38C), representatives from Larry Hogan's gubernatorial campaign, Rick Pollitt (D, county executive), John Cannon (R, county council at large), Laura Mitchell (D, county council at large) and M.J. Caldwell (circuit court judge).

A voter registration table also will be available. The deadline to register to vote in this November's elections is Tuesday, October 14.

Admission is free and the public is invited. For more information call 410-543-6030 or visit the SU website at www.salisbury.edu.