Friday, September 25, 2015
PACE Co-Hosts Mayor, City Council Candidates Forum Wednesday, October 21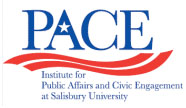 SALISBURY, MD---Salisbury University's Institute for Public Affairs and Civic Engagement (PACE) and the Salisbury Area Chamber of Commerce host a forum for Salisbury mayor and city council candidates 7 p.m. Wednesday, October 21, in the Wicomico Room of the Guerrieri University Center, in advance of the November 3 City Election.
Invited candidates include:
Mayor – Jake Day (unopposed)
City Council District 1 – Sarah Halcott, April Jackson and Shanie Shields
City Council District 2 – Keyvan Aarabi, Marvin Ames, Muir Boda and Justin Gregoli
City Council District 3 – Jack Heath, Kevin Lindsay and Tim Spies
City Council District 4 – Jim Ireton and Roger Mazzullo
City Council District 5 – Laura Mitchell (unopposed)
Admission is free and the public is invited. 47 ABC broadcasts the forum live for those unable to attend. For more information call 410-546-4127 or visit the PACE website at www.salisbury.edu/pace.