Friday, May 11, 2012
PACE Co-Hosts Civil Liberties Discussion Tuesday, May 15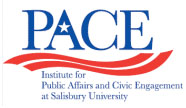 SALISBURY, MD---Professor Ajmel Quesreshi of ACLU—Maryland and the Howard University School of Law discusses "Civil Liberties After 9/11" 7-8:30 p.m. Tuesday, May 15.

His talk takes place in the meeting hall of the Community Foundation of the Eastern Shore, 1324 Belmont Ave.

Quesreshi examines the re-authorization of the National Defense Authorization Act, as well as the U.S. immigration policy, racial profiling and related challenges to civil rights and liberties.

Providing commentary are Dr. Michael O'Loughlin of Salisbury University's Political Science Department; Dr. John Routenberg, Salisbury physician; and Don Rush, Delmarva Public Radio news director.

Sponsored by SU's Institute for Public Affairs and Civic Engagement (PACE) and the Wicomico Neighborhood Congress, admission is free and the public is invited.

For more information call Mike Pretl at 443-323-3060 or e-mail mikepretl@aol.com.