Wednesday, June 15, 2011
Owen Named SU Employee of the Year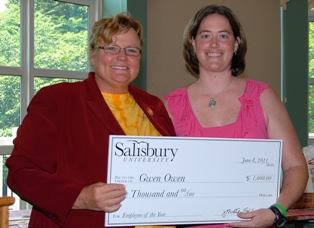 SALISBURY, MD---Gwen Owen, assistant director of housing and residence life, recently was named Salisbury University's 2011 Employee of the Year.
Announced during SU's annual Employee Appreciation Day, the winner receives a $1,000 cash prize.
Owen began her career with SU in 2003 as an area director in the Housing and Residence Life Office. In November 2010, she was selected as Employee of the Month.
Dr. Dane Foust, interim vice president of student affairs, described Owen as "the ultimate professional. She is a team player who takes initiative and will do whatever it takes to get the job done. She is energetic and enthusiastic and is always willing to go the extra mile. Gwen represents the very best that Salisbury University has to offer."
In a nomination letter, Diana Federici, assistant director of housing and residence life, said as a result of staffing changes, Owen had been delegated additional duties and assumed multiple responsibilities while maintaining a positive attitude and a sense of compassion for others.
She described Owen as "everything you would want in an employee: loyal, hard working, accountable, trustworthy and task oriented. She is our go-to person and a mentor to the young professionals in our department. Gwen is a dynamic individual who goes above and beyond any position she holds. She is a tremendous asset to the SU community."
For more information call 410-543-6030 or visit the SU Web site at www.salisbury.edu.