Monday, April 2, 2012
Overholt is First SU Student to Earn Fulbright Fellowship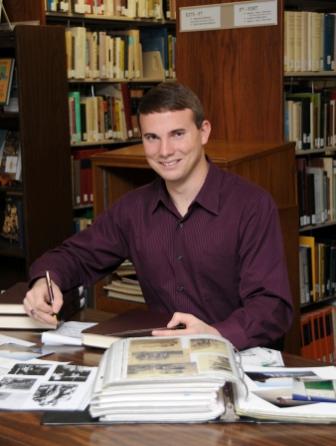 SALISBURY, MD---More than three centuries ago, Charles Overholt's ancestors immigrated to America from Germany in search of a better life.

Now, the Pocomoke City native is going back to the country they left as the first Salisbury University student to earn the prestigious Fulbright Student Fellowship, awarded by the U.S. Department of State's Fulbright Exchange Program.

"History has truly come full circle," he wrote in his application, noting that he sought to study "with the same hope and desire for self improvement" that his forbearers exhibited.

During the 2012-13 academic year, Overholt will travel overseas — for the first time in his life — to explore "Hessian Mercenaries and the German Reaction to the American Revolution" at the 485-year old Philipps-Universität in Marburg, Germany. In addition to classes, he will be mentored by two leading scholars on the subject who have already taken great interest in his work.

Drs. Holger Gräf and Christoph Kampmann have been editing, translating and publishing the letters of Hessian soldiers stationed in America and the diary of well-connected Hessian officer and landowner Baron Gilsa. They also are researching other private historical sources across their region. Overholt will help with the ongoing project and use the primary documents to explore his own questions about the Hessians.

"Were they truly indifferent soldiers for hire as they have been depicted in American history books, or were they a diverse, thinking group of men?" he said. "The story of these auxiliary forces combines my interest in German culture and trans-Atlantic history with my fascination with American independence and my own heritage."

Originally from Oberholz, Switzerland, the Oberholtzer family was persecuted for Anabaptist beliefs during the Protestant Reformation and fled to Frankfurt am Main, Germany — not far from Marburg. In the early 18th century, they voyaged to America, settling in Ohio. Eventually, Overholt's grandfather came to Delmarva after serving in the U.S. Navy.

"I vividly remember his age-worn finger [on an old globe] meticulously retracing the route his transport ship sailed during World War II" to Italy and southern France, Overholt said. "He is responsible for my initial interest in history, and ... his constant encouragement has been one of the driving forces behind my education."

Overholt also is motivated by the words of his father, a waterman: "Make a living with your mind, not your back." For some 12 years, he has worked alongside his dad, crabbing and net fishing in the Chincoteague Bay and other tributaries. With a 6-foot athletic frame, he values how their physical labor on the water fundamentally shaped his youth and college career.

"I carry the weighty hopes and expectations of my family along with the relentless work ethic they have passed down to me," he said.

A 2009 Wor-Wic Community College graduate, Overholt went on to earn a B.A. in history from SU two years later. He is now pursuing a master's with a concentration in European and world history. He works almost every day as a graduate assistant at SU's Nabb Research Center for Delmarva History and Culture, processing collections, researching material and assisting with public projects — all skills that will prove useful for his German studies.

"Charles represents the sort of person that we don't see that often in this century — the self-made man," said Dr. Ray Thompson, Nabb Center director. "He is multi-talented and has a great love for learning. He never stops ...."

Combining interests, Overholt is currently setting up a Nabb exhibit on the Shore's shanty boats and bygone gunning clubs. He believes: "We should never be content with our understanding of history. The world is always changing, and it is wrong to live in the present and relegate the past to a few fleeting footnotes."

Gräf called Overholt an "ideal candidate" for the research in Germany, especially with his knowledge of arcane German handwriting. In addition to learning the German language, Overholt taught himself Sütterlin and its predecessor Kurrent, an ornate script with sharp-angled cursive letters, which he often uses for class notes to practice. Kampmann noted Overholt's "well developed" academic research skills and the "great value" of his participation.

When Overholt returns to the U.S., he plans to apply to a doctoral program. His ultimate goal is to "honor and emulate" the many professors who have inspired him.

While Overholt is SU's first student recipient, the University has a long history of faculty Fulbright Scholar winners and was named one of the nation's top Fulbright producers for 2010 by The Chronicle of Higher Education. Among some 14 faculty honorees is Dr. Eugene Williams of the Biological Sciences Department, who will teach and research in Iceland during the upcoming year.

SU alumnus Stephen Reilly '95 also earned a Fulbright Student Fellowship, three years after his graduation, to study international relations in Sweden. He later founded Global Experiences, Inc., an Annapolis-based company that offers internships worldwide.

According to Dr. Brian Stiegler, director of SU's Center for International Education, seven Salisbury students have competed nationally for Fulbright Student Fellowships since 2008. In addition, the campus has welcomed several international student recipients.

For more information, call 410-543-6030 or visit the SU Web site at www.salisbury.edu.