Monday, August 25, 2008
Olmstead Named Dean of Henson School of Science and Technology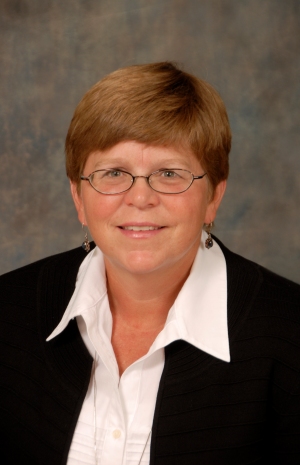 SALISBURY, MD---Salisbury University's new dean of the Richard A. Henson School of Science and Technology began her career as an ecologist whose main research interest was—studying bugs.
"Insects are so interesting," said Dr. Karen Olmstead, who took her first entomology class after deciding that she wanted to become a park ranger. Her favorite group of insects is a type of leaf beetle, called tortoise beetles, which have an unusual defense mechanism.
"As larvae they carry their waste products around on their bodies, which is a repugnant, but tremendously effective defense against many predators," she said. "As adults, these beetles are stunning, like brilliant jewels—kind of like the ugly duckling turning into a swan."
While Olmstead never pursued a career as a park ranger, she did earn her bachelor and master of science degrees in entomology from the University of Delaware, and her Ph.D. in entomology from the University of Maryland in 1991.
Then she began a 17-year academic career at The University of South Dakota in Vermillion, where she went from studying insect ecology in the field to nurturing students' growth in the classroom.
With roots as a Biology Department professor and chair, Olmstead served as USD's associate vice president for Academic Affairs and dean of the Graduate School, as well as director of University Honors and Undergraduate Studies. In her various roles at USD, she established a new interdisciplinary undergraduate program, gained national recognition for the University Honors Program and increased graduate student enrollment and programs in areas including biomedical engineering, political science and materials chemistry.
Olmstead said she was attracted by SU's focus on liberal arts and undergraduate research. "SU has always been on my radar because of its emphasis on undergraduate research and preparation of students for leadership," she said. "I was so impressed with the leadership role SU took as two-time host of the National Conference on Undergraduate Research. Given the high-quality programs we offer, and trends in higher education, applied graduate education in select fields represents a real opportunity for Salisbury University."
As dean of the Henson School, Olmstead will oversee seven academic departments and more than fifteen academic programs. She also plans to work with the Seidel School of Education and Professional Studies on Science, Technology, Engineering and Mathematics (STEM) initiatives to better recruit and prepare math and science teachers.
"While I loved my time in the Northern Plains, I'm really thrilled to be back in this region working for SU and the University System of Maryland," she said.
Olmstead resides in Salisbury with her husband, Brian Busek, and their two children, Maggie, 12, and Lincoln, 14. For more information call 410-543-6030 or visit the SU Web site at www.salisbury.edu.