Friday, September 30, 2011
Oaxacan Art Takes Center Stage at SU October 3-26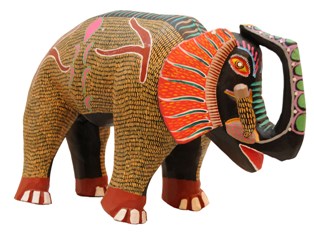 SALISBURY, MD---Woodworking is a traditional folk art in Mexico going back generations. Artists in the state of Oaxaca, however, have taken the art form to a new level.
In the past 40 years, traditional toys and carnival masks carved in the state have given way to colorful surreal creatures called "Alebrijes." Examples of these works are displayed during the exhibit "Oaxacan Art" October 3-26 in the Atrium Gallery of Salisbury University's Guerrieri University Center.
Featured are works from SU's permanent collection by sibling artisans Elvis and Arturo Castillo. During a residency at SU, they demonstrate their carving techniques from 1-3 p.m. Wednesday, October 19, in the Fulton Hall Lobby. A reception with the artists is 5-7 p.m. Friday, October 21, in the Atrium Gallery.
The Castillos and others keep alive the art of Pedro Linares, a Mexico City piñata maker who is credited with creating the original Alebrijes based on visions he had while fighting a tropical fever. His fantasy figures were championed by Mexican surrealist Frida Kahlo. Since then, the style has continued to evolve.
Gallery hours are 10 a.m.-4 p.m. Monday-Wednesday, closed holidays.
Sponsored by University Galleries, admission to the exhibit is free and the public is invited. For more information call 410-548-2547 or visit the University Galleries Web site at www.salisbury.edu/universitygalleries.