Wednesday, April 1, 2009
Newton Marasco Foundation Green Earth Book Award Winners Announced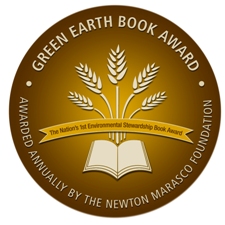 SALISBURY, MD---As MySpace co-founder Tom Anderson writes in the eco-guide MySpace/Our Planet: "It's pretty clear that unless we do something, and fast, we could be damaging the Earth beyond the point where it could repair itself."
The book calls for people to face the fact that "global warming is here—and it's going to get worse unless something is done to stop it." Based on suggestions and comments from more than 500 MySpace users, it outlines small steps that people can take each day to save the planet from damage and destruction.
It is efforts such as this, to promote environmental stewardship among young readers, which inspired the Newton Marasco Foundation to establish the Green Earth Book Award in 2005. Every year, the organization partners with Salisbury University to recognize green-minded authors and illustrators with the prize, the nation's first to laud environmentally-friendly literature for children and young adults.
A nonfiction book printed in vegetable-based inks on recycled paper, MySpace/Our Planet by Jeca Taudte and Dan Santat is one of six Green Earth Book awardees (and 11 honor books) for 2009.
For children's fiction, the winner is Bill Harley's Night of the Spadefoot Toads, which chronicles a fifth grader's attempt to attempt to protect an endangered habitat from land developers. Young adult fiction winners are Blind Faith Hotel by Pamela Todd, a story about the Midwest prairies and the importance of putting down roots, and Write Naked by Peter Gould, a story about writing an ecological fantasy with a quirky love story and tiny heroic newt.
For the first time, two picture books were also recognized: Planting the Trees of Kenya by Claire A. Nivola tells of a Nobel Peace Prize winner's movement to replant life-sustaining trees, while Varmints by Helen Ward and illustrator Marc Craste is a surreal, evocative tale of a threatened natural world.
"Whether through lively storytelling or beautiful illustrations, these books teach our youth how they can make a difference in protecting our planet," said Amy Marasco Newton, the foundation's president and founder.
Recipients will be saluted as part of the Children's and Young Adult Literature Festival on Wednesday, April 15, at SU, and several will also speak on an environmental writing panel. Events begin at 6 p.m. in Holloway Hall Auditorium.
More than 100 books were considered this year by 11 judges from across the nation including scientists, teachers, librarians, two SU faculty and representatives of the Environmental Protection Agency. Each winning author and/or illustrator receives $2,000. Green Earth books are also being donated to schools and youth organizations, and the entire collection was recently given to SU for its new Teacher Resource Room.
Over the years, the award has become an international honor. In 2008, O. R. Melling flew from Ireland to be recognized for The Light-Bearer's Daughter. This year, Ward hails from England. SU faculty have presented about the award at the International Reading Association, the National Science Teachers Association, and at conferences in China and Denmark. Several publishers also started printing the Green Earth Book Award seal directly on winning books—another sign of its growing significance.
A message from one 15-year-old MySpace user sums up the purpose of the award: "Just think. Think about everything that you do and what impact it has on the environment. Then think about what you can do to change that. It's really simple."
Support comes from SU, Constellation Energy, Comcast, APPI and Delmarva Recycling. For more information about the Green Earth Book Awards and the Newton Marasco Foundation visit www.newtonmarasco.org. For details about the festival call 410-543-6509 or visit the SU Web site at www.salisbury.edu.