Thursday, October 22, 2009
Newberry Earns Inaugural Perdue Leadership Award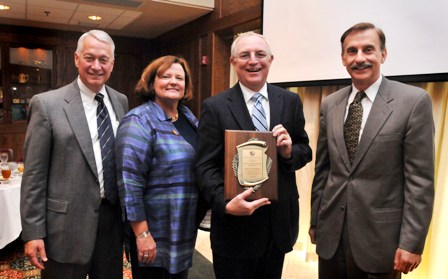 From left: Joseph Ollinger, Perdue School Advisory Council chair; SU President Janet Dudley-Eshbach; Peninsula Regional Medical Center CEO Alan Newberry; and Dr. Richard Hoffman, dean of the Franklin P. Perdue School of Business.

SALISBURY, MD---Salisbury University's Franklin P. Perdue School of Business Leadership Award pays tribute to area business leaders for their contributions to the University and greater community. This year's inaugural honoree is Alan Newberry, the former president and current CEO of Peninsula Regional Medical Center.

Newberry, the president/CEO of the Peninsula Regional Health System, is retiring at the end of this year. "As an organizational leader Alan Newberry has improved patient care practices, expanded the Medical Center's facilities and campus, and instituted management and health care practices that have garnered numerous recognitions," said Dr. Richard Hoffman, interim dean of the Perdue School.

Newberry began his 17-year tenure at Peninsula Regional in 1992 as executive vice president and chief operating officer. Five years later, he became its president and CEO. During his tenure, the hospital has experienced tremendous growth and fiscal success. The number of employees rose from 1,957 to 2,911, securing its position as one of Salisbury's largest employers. Emergency Department visits grew from 47,700 to 83,400. Outpatient Center visits increased from 256,000 to 491,500.

Financially, operating revenue rose from $98 million to $370 million, and more than $150 million dollars in capital equipment and technology have been reinvested into the Medical Center over the past decade. Peninsula Regional also has expanded from just over 700,000 square feet to nearly one million square feet. This includes the addition of such new facilities as the Richard A. Henson Cancer Institute, the Guerrieri Heart & Vascular Institute and the Frank B. Hanna Outpatient Center.

Under Newberry's leadership, the Medical Center also has expanded its role from treating purely acute illnesses to adding pre- and post-acute services through partnerships developed for home health care, durable medical equipment, nursing home care and rehabilitation services.

"The Medical Center employs almost 200 SU alumni," added Hoffman. "Each year it provides internship and clinical educational experiences to hundreds of SU students. Both the Nursing and Respiratory Therapy programs had their beginnings at Peninsula Regional, including being housed on its campus in their early years. The Medical Center provides numerous scholarships to students in the health sciences."

Peninsula Regional has earned a number of national awards during Newberry's time, including the prestigious HealthGrades Distinguished Hospital Award for Clinical Excellence, placing it among the top 5 percent of hospitals in the United States.

Newberry is the chair of the Maryland Hospital Education Institute and a member of
the Quality Improvement Committee for Premier, Inc. He is a board member of the Maryland Hospital Association Executive Committee and was a long time member of the association's Council on Financial Planning. He is a past vice chair of the Kentucky Hospital Association Board of Trustees and is a lifetime member of that association. He also is a fellow in the American College of Healthcare Executives.

In his role as a community leader, Newberry serves on numerous regional committees and boards, including Salisbury Urban Ministries, The Greater Salisbury Committee, the Salisbury Area Chamber of Commerce and the Wicomico Visioning Committee.

Newberry earned his bachelor's degree from East Tennessee State University and master's in Hospital Administration from the University of Minnesota. Prior to coming to Peninsula Regional Medical Center, he held senior health care leadership positions in Kentucky.

The name of each year's Leadership Award winner, starting with Newberry, will be engraved on a plaque in the Perdue School. Each honoree also receives a commemorative award.

For more information call 410-543-6030 or visit the SU Web site at www.salisbury.edu.