Thursday, July 31, 2008
New Ward Museum Effort Conserves Energy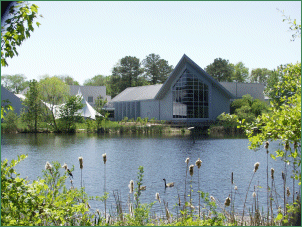 SALISBURY, MD---Famed Eastern Shore decoy carvers Lem and Steve Ward made their living from the environment, turning trees into works of art resembling ducks, geese and other waterfowl found in nature.
Now the museum that bears their name is doing its part to ensure the environment they enjoyed is around for future generations through the Ward Museum of Wildfowl Art, Salisbury University, Staff Summer Energy Conservation Challenge.
When Salisbury University President Janet Dudley-Eshbach signed the American College and University Presidents Climate Commitment last fall, pledging to move SU toward climate neutrality, Ward Museum Executive Director Lora Bottinelli began thinking about ways the museum could contribute.
"That was around the time energy prices started to skyrocket, and I started looking at our operating costs, as well," she said. The solution: encourage museum employees to reduce energy use and pass the resulting savings on to them in the form of bonuses.
The museum had already seen an energy cost reduction as a result of the 2006 chiller replacement and a 2007 agreement with PEPCO Energy Services, Inc. to replace its lighting with more energy-efficient bulbs, both initiated by SU.
"We saw some savings from these initiatives, and we said, 'What's next?'"
Since the conservation challenge began in May, the savings have been even more dramatic. In its initial month, the program helped the museum reduce its daily kilowatt usage by more than one-third over the same time in 2007—all from tasks as simple as turning off lights and computers when not in use.
Since then, participating employees have received bonuses up to $75 per month. Bottinelli expects the conservation trend to continue once the incentive ends in September.
"Once the end date passes, there will be some better habits in place that hopefully will be long-lasting," she said.
The museum's environmental efforts do not end there. Many of its youth activities carry an underlying conservation theme. Soon a rain garden—a lower-elevation section of plantings that help capture and reuse rainwater—will help keep sediment and ground-based toxins associated with runoff out of the adjacent Schumaker Pond.
For more information call 410-742-4988 or visit the Ward Museum Web site at www.wardmuseum.org.