Monday, August 20, 2007
New Construction Upgrades Campus for Fall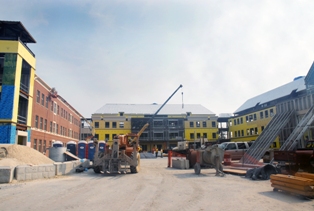 SALISBURY, MD---The Teacher Education and Technology Center is the most visible new construction on campus, but it is not the only capital improvement project underway, according to Greig Mitchell, vice president of administration and finance.
East campus saw its share of construction this summer with the conversion of the Sea Gull Stadium field to A-Turf. Soil excavated from the stadium for the project did not go unused. Instead, it went to the south practice field for renovations. New top soil also was added to the Avery Street athletics field.
On the main campus, an upgraded access road for the TETC was paved and realigned with Smith Street across College Avenue this summer. Trenches were dug from the TETC site to the front of Holloway Hall to install data network cable for the new building.
Similarly, the high-voltage electrical distribution system between the Maggs Physical Activities Center and Caruthers Hall has been expanded to accommodate the TETC, a planned building for the Franklin P. Perdue School of Business and other future growth.
Some HVAC systems also received a boost. A new consolidated high-efficiency air conditioning chiller installed between Chester and Choptank halls will keep the buildings cool and help save power as part of an agreement between SU and PEPCO Energy Services, Inc. A boiler chimney at the Commons also was replaced.
Future projects include installation of a campus siren and loudspeaker emergency alert system this fall. Planning for a new parking structure is scheduled this year, with construction slated to begin in 2008. In addition, SU's master plan is being updated, with publication scheduled next year.
For more information call 410-543-6030 or visit the SU Web site at www.salisbury.edu.