Monday, May 6, 2013
Neat, LSE Earn President's Leadership Awards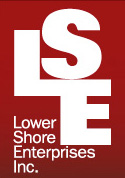 SALISBURY, MD---A thoughtful, hard-working businessman with a vision of a caring community and an organization dedicated to enhancing employment opportunities for individuals with disabilities are the 2013 recipients of the Salisbury University President's Distinguished Community Leadership Awards. Their work is celebrated during SU's 87th year Spring Commencement 10 a.m. Saturday, May 18, at the Wicomico Youth & Civic Center.
Marty Neat, president of First Shore Federal Savings and Loan, has served on boards for many civic organizations and agencies for more than three decades. Anthony Sarbanes calls him, "the most worthy candidate I have ever seen for the President's Distinguished Community Leadership Award for an individual. … We need more people just like him."
Neat has served in leading roles for many organizations, including the Peninsula Regional Medical Center Board of Trustees, Greater Salisbury Committee, Community Foundation of the Eastern Shore, United Way, Big Brothers Big Sisters and SU's Town-Gown Council. In addition, he has worked on boards and committees for Wor-Wic Community College, Salisbury Zoological Park, the Magi Fund, Salisbury Neighborhood Housing Services, Hudson Health Services, the Christian Shelter, the Joseph House, the Humane Society of Wicomico County and the American Red Cross. Many leading community organizations have recognized his dedication.
Since 1967, Lower Shore Enterprises, Inc. (LSE) has provided clients with disabilities the opportunity to work and interact with others. "These clients perform their assigned duties with pride … and they become proactive citizens in today's society," said Bevereley Stoakley, lifeline manager at Peninsula Regional Medical Center, which employs several LSE clients.
Currently, the organization serves some 141 clients and provides more than 400 individualized programs through its career development center. "They look forward to coming to work every day, and their self-esteem is obvious when they are at the facility," said Tina Perrotta, chairman of LSE's board of directors. "While [LSE] is not a large entity, it is one that has a huge impact on the local communities due to the nature of its workforce, and the specialty services and programs that are provided."
ABOUT THE AWARDS
SU's Community Leadership Awards are presented annually in two categories: individual and organization. Those in Wicomico, Worcester, Somerset, Dorchester, Accomack, Northampton and Sussex counties are eligible.
Past winners include the Community Foundation of the Eastern Shore; former Maryland Secretary of Agriculture Lewis Riley; Women Supporting Women and its founder, Sue Revelle; MAC Inc.; Henry Hanna, III; the United Way of the Lower Eastern Shore; Dr. Peggy Naleppa; Dove Pointe, Inc.; Dr. Carolyn Stegman; Debbie Abbott; Dr. George Whitehead; Habitat for Humanity of Wicomico County; and the Salisbury Area Chamber of Commerce.
Admission to Commencement is by ticket only. For more information call 410-543-6030 or visit the SU Web site at www.salisbury.edu/communityleadership.