Thursday, April 27, 2017
Nature Generation Honors Osprey Book Co-Authored by SU's Gorrow
S

ALISBURY, MD---The Nature Generation's 2017 Green Earth Book Awards applauded a book about an Eastern Shore osprey pair, written by Salisbury University teacher education professor Teena Ruark Gorrow and U.S. Fish & Wildlife Service biologist Craig A. Koppie.

Inside an Osprey's Nest: A Photographic Journey through Nesting Season was named an "Honor Winner" (or silver medalist) in the category of young adult nonfiction. The national award recognizes books that best convey a message of environmental stewardship to youth.

The 2016 Schiffer Publishing title is the duo's second in a series of raptor stories. Their first, Inside a Bald Eagle's Nest, won a Green Earth Book Award in 2014.

"These books are tools we can use to educate our next generation and inspire them to play a role in reversing the dangerous effects of climate change," said Amy Marasco, founder and president of The Nature Generation.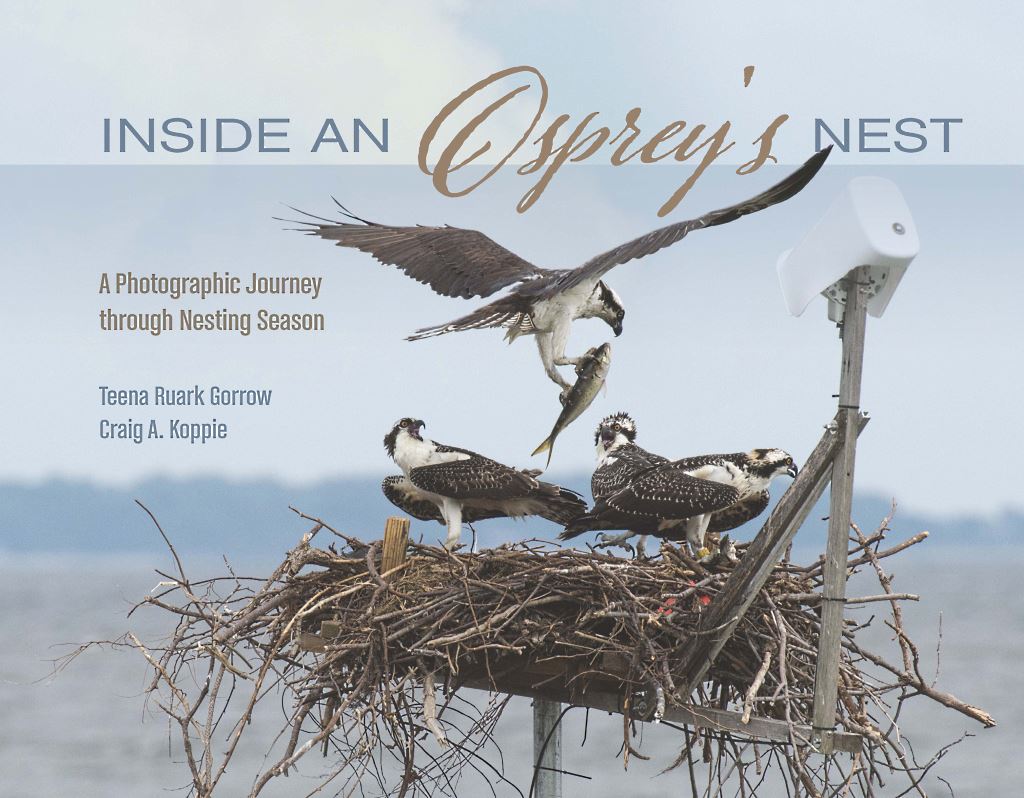 Inside an Osprey's Nest documents an experiment in conservation: When it was discovered that newly mated ospreys Tom and Audrey had unviable eggs, biologists swapped them with two living hatchlings from an ill-fated nest. The foster parents cared for the chicks, as well as an interloper fledgling that landed in their nest for help.

To accomplish their vision for the book, Gorrow and Koppie erected a small blind on the homeowner's property where the nest is located to observe and photograph the ospreys' activities. They also documented daily activities through the Chesapeake Conservancy Osprey Family Nest Cam.



"I have no doubt that Inside an Osprey's Nest is inspiring people to learn about the osprey's way of life while promoting a sense of environmental stewardship," said Joel Dunn, Chesapeake Conservancy president and CEO. "The book's images of osprey hatchlings, and the foster parents seeing their new family for the first time, still tug at my heart. This success story in conservation galvanizes our organization's resolve to conserve, protect, and restore the health of the Chesapeake Bay watershed."

To view the eggs in Tom and Audrey's nest this season, visit http://chesapeakeconservancy.org/explore/wildlife-webcams/osprey/. Inside an Osprey's Nest is available through the Chesapeake Conservancy and at local retailers, including SU's Bookstore and Ward Museum of Wildfowl Art.

For more information, call 410-543-6030 or visit the SU website at www.salisbury.edu.