Monday, August 11, 2014
Nationally Recognized SU Alum Brings Technology Education Ideas to Wicomico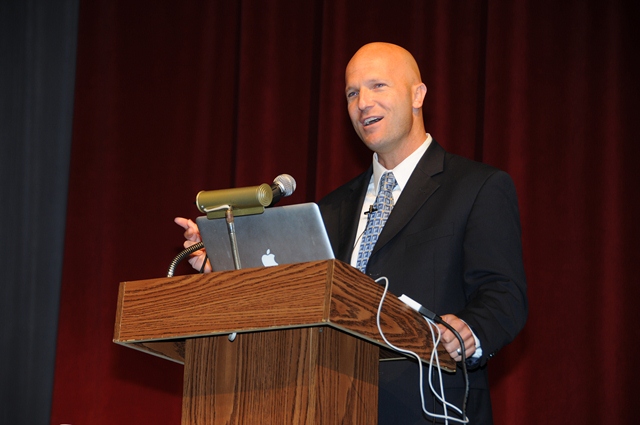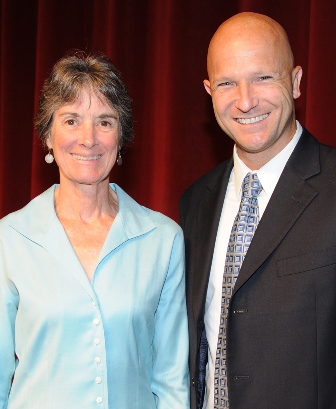 Dr. Judith Stribling with Sheniger
SALISBURY, MD---Eric Sheninger is an award-winning principal nationally recognized for using technology and social media to engage high school kids. He told the story of his transformation from skeptic to passionate advocate of creating an exciting, technologically supported, learning culture to Wicomico County teachers Monday, August 11.
For seven years the principal at New Milford High School in New Jersey, 10 minutes away from New York City, he headed a small, blue-collar school—a "have not" surrounded by "haves"—where some 650 kids spoke over 40 different languages.
He remembers in 2009 taking a cell phone from a student in the hallway and being stung by the student's retort: Thanks for turning school into a jail. He reexamined his own attitudes and gathered a handful of teachers who were successful at incorporating technology into their curricula. The journey began. Today New Milford has become one of New Jersey's—and the country's—award-winning schools, with attendance, grad rates and college attendance at all-time highs while discipline problems have dropped dramatically.
His leadership in digital learning has put New Milford in the national spotlight, and he has been recognized with the BAMMY Award (2013), NASSP Digital Principal Award (2012), and PDK Emerging Leader Award (2012) among others. Time magazine named his Twitter feed one of the 140 best of 2014. He has written several books, including Digital Leadership: Changing Paradigms for Changing Times. Next month he will join the International Center for Leadership in Education think tank and Scholastic Achievement Partners as a senior fellow and thought leader on digital leadership.
His Wicomico presentation had special meaning for him, he said, returning to the town of his Alma Mater, Salisbury University. He earned dual degrees in biology from SU and in marine/environmental science from the University of Maryland Eastern Shore in 1997, and played football for the Sea Gulls. Sitting in the audience was Dr. Judith Stribling, head of SU's dual degree program and a proud professor. Afterward, she gave his talk high marks.