Tuesday, October 14, 2008
National Recognition for SU Relay For Life, Colleges Against Cancer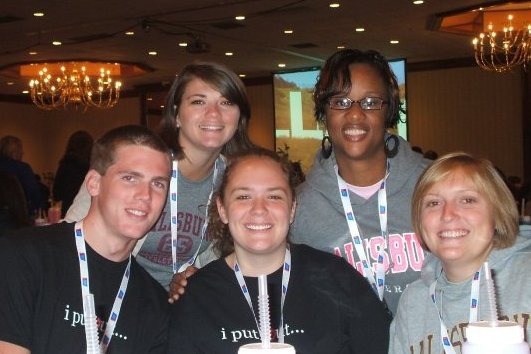 Pictured (L-R) at the South Atlantic Division Collegiate Summit are American Cancer Society Staff Partners Katie Weber and Binga Smith (top row), along with SU students Eric Kennedy, Lauren Friedman and Alexandra Horkey. Not pictured is alumna Julie Bayer-Vile ('08).
SALISBURY, MD---Salisbury University students have been doing their part to help the American Cancer Society in its fight against cancer—and their efforts recently garnered national recognition.
With some $95,240.41 in donations, SU's Relay for Life was named No. 3 in the nation among institutions its size for per capita fundraising. For the second consecutive year, SU also was named a "Leader of Hope," one of only 23 in the nation. In addition, SU's Colleges Against Cancer (CAC) chapter won this year's Outstanding Advocacy Award, one of only six honors given to the more than 400 chapters nationwide.
These honors were presented at the South Atlantic Division Collegiate Summit in Richmond, VA, last weekend. In attendance were SU students Lauren Friedman, Eric Kennedy and Alexandra Horkey, along with alumna Julie Bayer-Vile ('08). Bayer-Vile just finished a one-year term on CAC's national leadership board and now works as a medical technologist at a Richmond-area chemistry lab that specializes in urological cancers.
Recognized among institutions with undergraduate enrollments of 5,000-9,999, SU's per capita total for Relay For Life topped $13 per student. Some 950 individuals on 107 teams participated. This is the fifth year SU has been among the top collegiate Relays in the nation. Last year, Colleges Against Cancer named SU "Rookie of the Year" for its successful Relay. In all, the University has raised more than $400,000 for cancer research.
Honored for volunteerism and participation in conference calls and the CAC online community, SU is the only "Leader of Hope" in the South Atlantic Division, which encompasses 80 chapters across Maryland and in Delaware, Virginia, West Virginia, North Carolina, South Carolina, Georgia and Washington, D.C.
Recognizing work with campus and community officials to influence policymaking, the advocacy award stemmed from CAC's involvement with the Smoke Free Maryland initiative and its implementation of a grant from the Wicomico County Health Department Cigarette Restitution Fund. One project was a "Put Out Party" on February 1, when the state's Clean Indoor Air Act took effect.
"We had a concert, carnival games and just a celebration of the day that Maryland went smoke-free," Bayer-Vile said. "More than 300 students attended." While the party was the chapter's largest advocacy initiative on campus, it also held an advocacy panel in April and a "Smoke-Free Walk of Fame" poster campaign at Relay.
Many other activities are planned for this year, according to Friedman, co-president of CAC and co-chair of Relay.
"CAC is a great organization and we're making it even better," she said. "This year, we received another grant from the Wicomico County Cigarette Restitution Fund, and we will be putting on a free outdoor concert, as well as a photography contest."
"We are always looking for people to be a part of Relay, whether they are participating or simply spreading the word," added Maria Jensen, last year's co-chair. "Educating the campus about cancer and how each individual can help is half the battle."
A Relay For Life committee interest meeting for students is Wednesday, October 15, at 4:30 p.m. in the Scarborough Leadership Center. For more information, e-mail Relay4Life@salisbury.edu.