Wednesday, March 26, 2008
National Conference on Undergraduate Research Returns to SU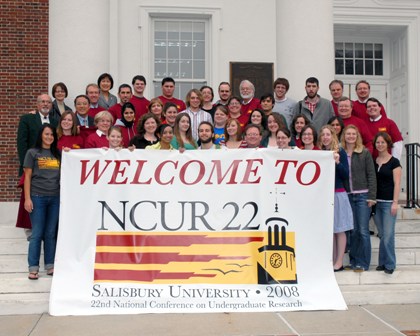 SALISBURY, MD---The city of Salisbury becomes an academic mecca this April as more than 2,800 student scholars and faculty descend upon Salisbury University for the 22nd National Conference on Undergraduate Research (NCUR).
This is the second time in a decade that the conference has been in Maryland, both times at SU. Some 350 colleges and universities are represented and the diversity is remarkable: from Harvard and Vassar to the Borough of Manhattan Community College and the University of the Virgin Islands. March Madness basketball fans take note: Scholars from UCLA and UNC will attend.
Although it's not a competition, NCUR is, in some ways, a March Madness for brainiacs. The nation's largest undergraduate research conference, NCUR runs for three days (April 10-12) and is unique in its emphasis on undergraduate research. While students in graduate school are expected to spend a significant amount of time working on research projects, expectations of undergraduates for such independent work have traditionally been lower.
The undergraduate scholars presenting at NCUR, however, have sometimes put hundreds of hours into research that they voluntarily pursued out of love for their subject.
"It's extremely gratifying to be able to present your work to an audience. Scholarship or research done outside of a class can easily go unnoticed," said SU student Clayton Alsup of Columbia, MD. "At NCUR, it's great to be able to share it with others."
Student presentations encompass more than 50 disciplines, from the scientific to the artistic. They even include a humorous fashion spread recalling the sometimes eye-popping products of haute couture, reminiscent of Bravo's Project Runway.
NCUR's economic impact on the local community is substantial. Salisbury area hotels are booked solid through the conference, with hundreds of rooms also reserved in Ocean City. Flights at Salisbury-Ocean City Wicomico Regional Airport bracketing the conference are sold out.
Dr. Memo Diriker, director of the Business, Economic and Community Outreach Network (BEACON) of SU's Franklin P. Perdue School of Business, estimates "between a third to nearly half of the $1.5 million the NCUR delegates will spend to take part in this event will stay in our local economy."
"Because funds are coming to our area from outside of our region, the multiplier effect (the number of times those funds will churn in our local economy) will be greater than would be the case for an equal amount of spending done by locals," Diriker added, which makes the economic impact greater during this "off-season" weekend.
NCUR is not all work and no play. Thursday evening will provide participants a chance to unwind at Crown Sports Center and Delmarva Paintball. Friday culminates in an evening "Beach Party," including 20 tons of sand deposited on SU's Henson lawn and a live steel drum band. Students will be able to mingle and dine before a massive sand sculpture created to commemorate the conference.
Optional Saturday afternoon daytrips are a bike ride at Assateague Island, a cruise around St. Michael's and hiking at Blackwater National Wildlife Refuge.
Four plenary speakers deliver featured talks, including Eastern Shore native Thomas Horton, one of the nation's preeminent environmental writers. Others are scientist Tyrone Hayes, noted for his work measuring water contamination by observing physical changes in frog populations; Emmy Award-winning TV producer and director Rudy Bednar, director and executive producer of ABC News All Media, noted for his work on 20/20 and Primetime Live; and Anne Foerst who has served as theological advisor to the Artificial Intelligence Laboratory at MIT and investigates the connections between new media, religion and the place of theology in a modern world.
The public is invited to all student NCUR presentations and poster displays. For more information call 410-677-5046 or visit the NCUR Web site at www.salisbury.edu/ncur22.