Monday, October 17, 2011
Nathan Williams and the Zydeco Cha-Chas Perform at SU Wednesday, October 19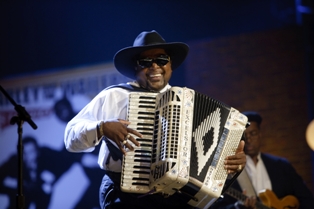 SALISBURY, MD---Musician and songwriter Nathan Williams has dedicated his life to one of the most expressive sounds in root music: zydeco.
With his band, the Zydeco Cha-Chas, he performs this uniquely American music 7 p.m. Wednesday, October 19, in Salisbury University's Holloway Hall Auditorium.
A fast and furious accordion-driven dance music originating from the Creole people of southern Louisiana after World War II, zydeco blends rubboard percussion, electric guitars and R&B influences.
Country Music Television (CMT) has praised Williams: "His stylings on the piano accordion have made him one of the most admired players in the zydeco scene." The group is a multi-year recipient of New Orleans' Dig Easy Music Award for best zydeco band.
Sponsored by the Office of Cultural Affairs, admission is free and the public is invited. For more information call 410-543-6271 or visit the SU Web site at www.salisbury.edu.