Wednesday, February 21, 2007
Nai-Ni Chen Dance Company Performs at SU March 13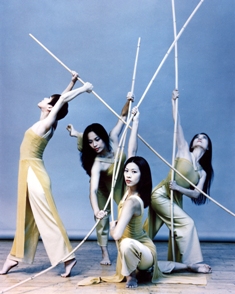 SALISBURY, MD---Combining the freedom of modern American dance with the grace and splendor of Asian art, the Nai-Ni Chen Dance Company performs at Salisbury University 7 p.m. Tuesday, March 13, in Holloway Hall Auditorium. The production is part of the "East Meets West" spring cultural events series.
Described by The New York Times as "endlessly proliferating forces of cosmic energy," the dance company offers a cross cultural performance that celebrates the diversity of ideas shaped by the immigrant experience and bridges the gap of understanding between East and West. The group has received more than 12 awards from the National Endowment for the Arts.
The dance company was founded nearly 20 years ago by choreographer and artistic director Nai-Ni Chen, who was a renowned traditional dancer in the Republic of China. Since coming to the United States to find her own way in the world of contemporary dance, she has created a wide-range of works including some based on dances originating thousands of years ago and others that are highly abstract and modern. Chen's work is not easily categorized as each dance reflects her personal vision as an Asian artist living in America and is shaped by influences around the world. Inspiration often stems from nature, folk rituals and the poetic motion of the Chinese painting brush.
Chen's intense, contemporary routines have been recognized across the U.S. and internationally, with shows at the China International Dance Festival and at Korea's Konfrontation International Dance Festival. She has won critical acclaim worldwide, including the distinctive dual-year Choreographer's Fellowship from the National Endowment for the Arts. The Lincoln Center Institute, Geraldine R. Dodge Foundation, Joyce Theater Foundation and Mid Atlantic Arts Foundation have all commissioned her work.
Chen has taught master classes at colleges and universities throughout the United States, Poland, Taiwan and China. She earned her Masters of Art in Dance and Dance Education from New York University.
Sponsored by the SU Dance Company and the Office of Cultural Affairs, this performance is free and the public is invited. Tickets are not required. For more information call 410-219-2872 or visit the SU Web site at www.salisbury.edu.