Wednesday, January 6, 2016
Nabb Research Center Presents Steamboat Exhibit Through April 29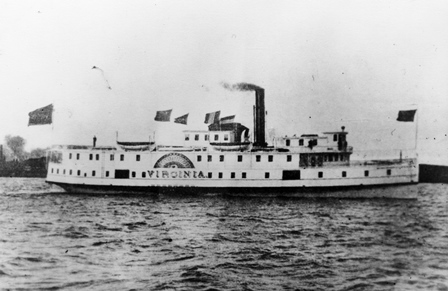 SALISBURY, MD---Before "the bridge" the most popular way to get from Baltimore to Salisbury and other Eastern Shore points was via steamboat.
Salisbury University's Edward H. Nabb Research Center for Delmarva History and Culture Gallery (190 Wayne Street) recalls those simpler days during the exhibit "This Trip Is a Treat: Looking Back at Steamboating to Salisbury a Century Ago." The display opens Friday, February 5, continuing through Friday, April 29.
At the turn of the 20th century, the Baltimore, Chesapeake and Atlantic Railway Co. (BCA) promised "a little voyage" from Baltimore that was "filled with delight." The overnight crossing of the Chesapeake Bay offered stopovers at four bayside and Wicomico County wharves, docked in the harbor at Salisbury, and provided rail connections to Ocean City.
The exhibit follows the route of the BCA steamship Virginia during its final years transporting vacationers before the wharves fell victim to the harsh weather conditions and changing travel trends of the new century.
Sponsored by the Nabb Research Center, admission is free and the public is invited. Gallery hours are 1-4 p.m. Monday, Wednesday and Friday. For more information call 410-543-6312 or visit the SU website at www.salisbury.edu.