Tuesday, October 18, 2011
Nabb Research Center Presents 'Firefest' Exhibit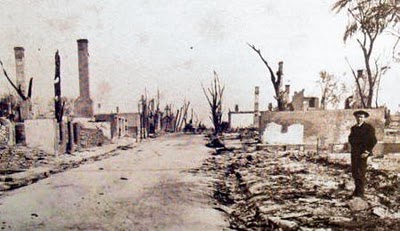 SALISBURY, MD---The Edward H. Nabb Research Center for Delmarva History and Culture at Salisbury University presents little-known details and rarely-seen photos of Salisbury's Great Fire of 1886 during "Firefest."

The exhibit opens Monday, October 17, at the center's gallery at 190 Wayne Street, and continues until Friday, December 16.

Included are posters, vintage photographs, maps and newspaper accounts containing information on the history of the fire. A large-scale map of downtown Salisbury with pinpointed locations of the damage is displayed. These visuals help put the path of the fire into perspective.

The Great Fire of 1886 was the most notable disaster in the history of Salisbury, said Dr. G. Ray Thompson, Nabb Research Center director. The fire started at 7 p.m. on October 18 and burned through the night. The Salisbury Fire Department responded immediately with its Silsby engine, "L.P. Almond," which had been purchased six years previously.

The fire spread rapidly as the engine failed to work because it had not been properly maintained. Bystanders watching did not initially form a bucket brigade or get help because they were too eager to see the innovative fire equipment do its job. With help from neighboring cities, however, the fire was put to rest the next morning.

This fire changed the course of the downtown area. Fire codes were established, the fire department became more efficient and organized, and an engineer was appointed to regularly check the maintenance of all fire equipment. Besides safety upgrades, the disaster caused changes in architecture and community life. Residential and business districts were rebuilt and flourished as time passed.

The fire showed the citizens of Salisbury that they could overcome such a monumental disaster and move on, only looking back to learn from their past, Thompson said.

Regular gallery hours are 1-4 p.m. Mondays, Wednesdays and Fridays, closed holidays. Admission is free and the public is invited. For more information call 410-543-6312 or visit the Nabb Research Center's Web site at http://nabbhistory.salisbury.edu.