Monday, November 14, 2011
Nabb Research Center Hosts Probate Records Workshop Saturday, November 19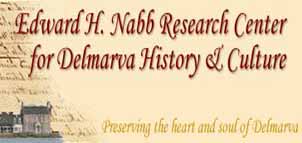 SALISBURY, MD---Salisbury University's Edward H. Nabb Research Center for Delmarva History and Culture inaugurates its historical public records research series with a workshop on probate records 1-4 p.m. Saturday, November 19.

Visuals and handouts will help genealogical researchers learn how to search these types of records and what valuable information they may hold. Probate records include wills, administration bonds, letters testamentary, letters of administration, inventories, and sales and administration accounts.

Admission is $15 for Nabb Research Center members, $20 for non-members. Seating is limited to 25 participants.

To register call 410-543-6312. For more information visit the center's Web site at http://nabbhistory.salisbury.edu.