Friday, August 9, 2013
Nabb Gallery Presents 'Native Americans: First Contact' Exhibit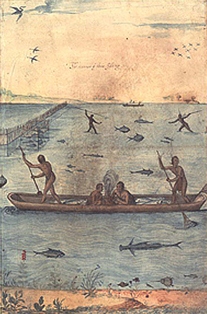 SALISBURY, MD---For thousands of years, Native Americans forged a rich and dynamic culture on the Delmarva Peninsula, and it was uniquely theirs.
The arrival of European settlers in the 17th century changed all that.
Salisbury University's Edward H. Nabb Research Center for Delmarva History and Culture examines the cultural shifts that occurred during that period with the exhibit "Native Americans: First Contact on Lower Delmarva." The installation is on display in the center's gallery, 190 Power Street, from September 3-November 26.
Through prints, first-hand accounts and other items, the exhibit shows how area Native Americans lived and worked at the time of their first contact with Europeans. It also depicts ways in which Native American life changed shortly thereafter, including a loss of freedom, environmental alterations, continually shrinking territory and the establishment of reservations.
Gallery hours are 1-4 p.m. Monday, Wednesday and Friday. Sponsored by the Nabb Research Center, admission is free and the public is invited.
For more information call 410-543-6385 or visit the Nabb Research Center Web site at http://nabbhistory.salisbury.edu.