Monday, March 21, 2016
Nabb Center Explores Local Baskets at Apr. 23 Roundtable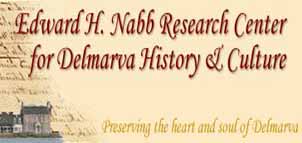 SALISBURY, MD---During the late 1800s, Joshua Marvil patented the basket designs that were made at his factories in Laurel, DE, and Chestertown and Sharptown, MD.

Salisbury University's Edward H. Nabb Research Center for Delmarva History and Culture explores these designs and their history during the roundtable discussion "Coopered Vegetable and Fruit Baskets of Delmarva: The Marvil Packing Company" 1:30-3 p.m. Saturday, April 23.

The event, in conjunction with the presentation "Woven Traditions: Maryland Basket-Making Communities and Culture, Past and Present," is held at the center's gallery, 190 Wayne St.

Led by Dr. Kathleen Beauchesne, director of the Maryland-based Center for Research in Basketry, Inc., the discussion includes area residents who worked for Marvil, as well as the Eastern Shore canning industry.

Marvil's baskets were based on a round wooden base with a hole in the center and wooden hoops that stabilized and formed the rim, much like coopered barrels used for easy rolling onto ships. The presentation highlights the importance of basketry to the Delmarva Peninsula's fruit and vegetable industry.

Baskets from the collections of the Westside Historical Society and Adkins Historical and Museum Complex of Mardela Springs, MD, and the Historical Society of Kent County, MD, will be on display during the discussion. Those attending are encouraged to bring their own baskets to show the group.

Sponsored by the Nabb Research Center, admission is free and the public is invited. For more information call 410-543-6312 or visit the center's website at www.salisbury.edu/nabb.