Thursday, February 11, 2016
NOAA's McGowan Discusses 'Seabed Mapping in the Chesapeake Bay' February 17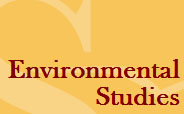 SALISBURY, MD---Andrew McGowan of the National Oceanic and Atmospheric Administration (NOAA) continues Salisbury University's spring Environmental Studies Colloquium Series continues with the presentation "Seabed Mapping in the Chesapeake Bay."

His talk is 7 p.m. Wednesday, February 17, in Henson Science Hall Room 243.

McGowan, a field technician for NOAA's Chesapeake Bay office, speaks on the process of using sonar systems for benthic characterization and habitat assessment. These methods identify locations for oyster reef restoration sites and potential Atlantic sturgeon breeding grounds, helping to restore the bay and its tributaries.

Sponsored by SU's Environmental Studies Department, admission is free and the public is invited.

Upcoming presentations in the series include:


Wednesday, March 9 – "Can Drone Technology Solve Global Problems?" with Patrice Ludwig of James Madison University; and
Wednesday, April 13 – "Crabs, Crabbing and the Chesapeake Bay" panel discussion.

For more information call 410-543-6030 or visit the SU website at www.salisbury.edu.