Tuesday, July 21, 2015
'Moonwalking with Einstein' Announced as 2015 SU New Student Reader Book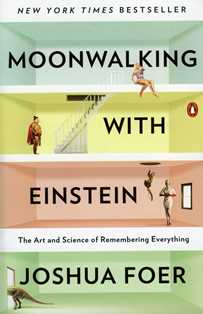 SALISBURY, MD---Can memory be improved? Joshua Foer thought so.
The Washington, D.C., native chronicled his yearlong quest for memory improvement in the international bestseller Moonwalking with Einstein: The Art and Science of Remembering Everything, this year's New Student Reader book at Salisbury University.
A public discussion and book signing with Foer is 7 p.m. Thursday, August 27, in Perdue Hall's Bennett Family Auditorium. Those planning to attend are encouraged to read the book in advance. Admission is free and the public is invited.
The next day, the author meets with new students at SU and keynotes the University's annual Fall Convocation, traditionally the first on-campus academic experience for incoming freshmen. Admission to Convocation is by invitation only.
Foer tackled the subject of memory the way professional athletes approach sports: He trained for a year using cutting-edge research, cultural history and mentalist tricks before entering the "big leagues," becoming a finalist in the U.S.A. Memory Championships. Along the way, he helped transform the way many people think about human memory.
The New York Times called the images Foer used as memory tools "riotous." The Guardian of England hailed Walking with Einstein as "a delightful book." It also earned praise from Microsoft founder Bill Gates, who called it "absolutely phenomenal."
Moonwalking with Einstein has been published in 33 languages. Foer's work also has appeared in The New Yorker, National Geographic, Esquire and Slate, among others.
Founded in 2005, SU's New Student Reader Program is designed to orient new students to the academic community by sharing a common reading experience with classmates, faculty, staff and upperclassmen who serve as orientation team peer leaders.
For more information, call 410-543-6030 or visit the SU website at www.salisbury.edu.