Wednesday, November 5, 2014
Miller Discusses Changing Border Landscape Wednesday, November 12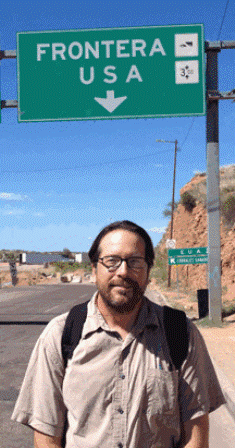 SALISBURY, MD---For the past 15 years, Todd Miller has researched immigration and border issues in the United States and Mexico.

The author and investigative reporter discusses the changing border landscape 6 p.m. Wednesday, November 12, in Room 123 of Salisbury University's Devilbiss Hall.

Miller chronicled his observations in his new book, Border Patrol Nation: Dispatches from the Front Lines of Homeland Security. Dr. Tim Dunn of SU's Sociology Department called the book "a tour de force of the ever-growing, metastasizing border enforcement apparatus focused on threats posed by immigrants, drug runners and nearly non-existent terrorists.



"Miller highlights the problem of the fetishistic overuse of coercive technology and human resources-cum-militarization to address what are essentially underlying social problems."

Dr. Jacqueline Stevens, director of the Deportation Research Clinic at Northwestern University also praised Miller's research: "If you want to know what's really going on behind the border patrol code names and billion-dollar budgets, read this book."

Miller has worked for organizations including BorderLinks, Witness for Peace and the North American Congress on Latin America. His articles have appeared in The New York Times, Mother Jones and Salon, among other publications.

His SU talk is sponsored by the Sociology, Political Science and Communication Arts departments; Institute for Public Affairs and Civic Engagement; and Charles R. and Martha N. Fulton School of Liberal Arts Dean's Office. Admission is free and the public is invited.

For more information call 410-543-6030 or visit the SU website at www.salisbury.edu.