Tuesday, January 29, 2013
Merlin Ensemble Vienna Performs at SU Tuesday, February 5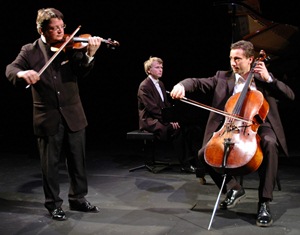 SALISBURY, MD---The renowned Merlin Ensemble Vienna performs 7 p.m. Tuesday, February 5, in the Great Hall of Salisbury University's Holloway Hall.

Founded in 1991 by members of the Chamber Orchestra of Europe and Camerata Academica Salzburg, the ensemble presents the program "Transfigured Night," including works by Zemlinsky, Schubert, Koerber and Schoenberg.

Members include violinist Martin Walch, pianist Till Alexander Körber and cellist Luis Zorit. The trio also performs original works by Körber.

The ensemble has played chamber music worldwide at concert houses and musical events including the Salzburg Festival. Its recorded works include Stravinsky's Soldier's Tale.

Sponsored by the Office of Cultural Affairs and World Artists Experiences, Inc., admission is free and the public is invited. For more information call 410-543-6271 or visit the SU Web site at www.salisbury.edu.