Wednesday, October 5, 2016
Memorial Service Scheduled for Dr. Ernie Bond October 15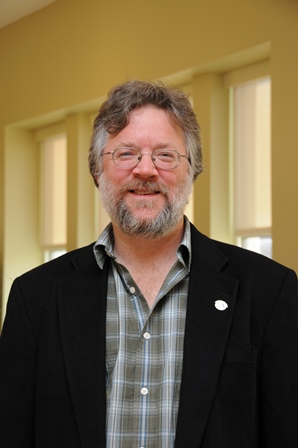 SALISBURY, MD---A memorial service for Dr. Ernie Bond, former chair of Salisbury University's Teacher Education Department, is 1 p.m. Saturday, October 15, in the Patricia R. Guerrieri Academic Commons Assembly Hall at SU.

Bond, a professor of education in SU's Samuel W. and Marilyn C. Seidel School of Education and Professional Studies since 2001, died unexpectedly on Tuesday, September 20, at age 53.

He was a renowned children's literature expert, coordinating the University's annual Read Green Festival (formerly the Children's and Young Adult Literature Festival) from 2002-2016. He also served on selection committees for The Nature Generation's Green Earth Book Awards, as well as the Outstanding International Children's Book Awards.

Bond was a member of The Children's Book Guild, United States Board on Books for Young Readers, National Council of Teachers of English and State of Maryland Reading Council. Internationally, he served as a jurist for the prestigious Hans Christian Andersen Award. He also published the textbook Literature and the Young Adult Reader.

In 2007, he was named Maryland Professor of the Year by the Carnegie Foundation for the Advancement of Teaching and Council for Advancement and Support of Education. He also earned the University System of Maryland's highest faculty honor, the Regents' Award for Excellence in Teaching.

Bond was well known for his dedication to SU and its students. At least once each year he led a course on international children's literature, taking students on study abroad trips to Italy, Australia, New Zealand, Iceland and elsewhere.

One specialized area of study was J.K. Rowling's Harry Potter series. With Dr. Nancy Michelson, retired SU professor of education, he co-authored chapters for two editions of Harry Potter's World: Multidisciplinary Critical Perspectives. He also wrote about the series in publications including The Washington Post and the Journal of Children's Literature.

Bond earned his Ph.D. in education and a master's in Black studies from Ohio State University. He received his bachelor's in anthropology and sociology from Kenyon College, OH.

A native of Macon, GA, he is survived by his sons, Nicholas and Nathan Bond; his father, Alpha May Bond Jr.; and several siblings.

For more information call 410-677-0256 or visit the SU website at www.salisbury.edu.