Monday, May 4, 2015
Melendez Earns National Civil Rights, Justice Fellowships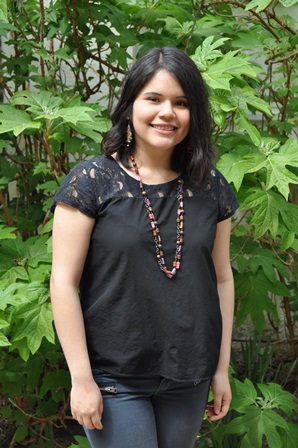 SALISBURY, MD---Salisbury University senior international studies and conflict analysis and dispute resolution major Mayra Melendez has been a force for immigrant student activism on campus.


Following her graduation in May, she will have the opportunity to continue that passion nationwide thanks to two prestigious fellowships. Melendez is one of seven FirstGEN Civil Rights Fellowship recipients from across the nation this summer.


Through the program, created by the Lawyers Committee for Civil Rights Under Law, she will intern for 10 weeks at the National Immigration Law Center in Washington, D.C.


In the fall, she will begin a two-year paid Community Fellowship with the Immigrant Justice Corps (IJC) in New York — one of only 10 selected from more than 200 applicants. There, she will provide legal services and work for immigrants in underserved communities.




"I first heard about the IJC about a year ago, looked over the fellowship description and thought, 'This is perfect for me. This is exactly what I want to do,'" she said. "This fellowship and its mission was also something I could personally relate to — IJC provides legal access and representation for immigrants, helping them avoid the circumstances that fell upon me and my family."


Melendez's family came to the U.S. from Peru on an H-1 work visa when she was 7 years old. Six years after her family applied for permanent residency status, they were denied due to errors on a form a legal agency had filled out on their behalf more than half a decade earlier. She obtained temporary legal status through the 2012 U.S. Deferred Action for Childhood Arrivals program — and made the decision to do whatever she could to help others in her family's situation.


At SU, Melendez worked closely with the late Elizabeth Bellavance, a past career services counselor and wife of former SU President Thomas Bellavance, known for her support on immigration issues.


Through Bellavance, she became involved with advocacy for the 2012 Maryland Dream Act, which offers in-state tuition for children of undocumented immigrants. As part of that campaign, she went door-to-door to more than 3,000 homes in Wicomico County, asking for support. With the act's passage, many Maryland residents themselves in similar situations to Melendez's after high school no longer are required to pay higher out-of-state tuition costs to attend in-state colleges.


As an SU student, she also has interned with the Migrant Clinicians Network. Earlier this semester, she co-organized the forum "Undocumented Sea Gulls," offering members of the SU community and area high school students information on how immigrant students — both documented and undocumented — can pursue college degrees.


After completing the fellowships, she hopes to pursue a graduate degree in law or public policy.


For more information call 410-543-6030 or visit the SU website at www.salisbury.edu.