Monday, December 14, 2009
Meekins Family Donation Establishes 'Artists of the Eastern Shore' Collection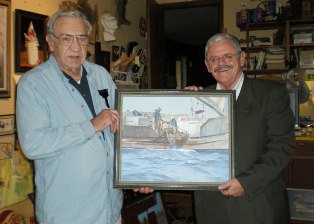 From left: Dr. Bob Tolley, artist, and Dr. Dennis Pataniczek, dean of the Samuel W. and Marilyn C. Seidel School of Education and Professional Studies
SALISBURY, MD---The contributions of Eastern Shore artists to the preservation of local heritage will become part of Salisbury University's Teacher Education and Technology Center (TETC) thanks to an ongoing contribution by Dr. Amy Stephens Meekins, former Dorchester County educator and SU faculty emerita, and family.
Dr. Dennis Pataniczek, dean of the Samuel W. and Marilyn C. Seidel School of Education and Professional Studies, recently accepted a gift for the TETC representing the first in a series of original art work contributions donated by Meekins and family.
The collection, Artists of the Eastern Shore, will provide a legacy of artistic interpretation of life on the Eastern Shore, featuring artists who live on the Shore or whose artwork highlights some element of regional life.
The first gift is an original oil painting by Dr. W. Robert "Bob" Tolley. "#53 – Helen Virginia" depicts watermen unloading their catch on the deck of a skipjack oyster dredge boat. It will hang in the reception area of the Seidel School Dean's Office.
Tolley was born, raised and continues to live on the Eastern Shore of Maryland. Many of his days are spent around the marshes, on the waters and along the shorelines observing, drawing or photographing.
Tolley studied formal art and painting at the Maryland Institute College of Art and later earned an Ed.D. Since retiring, he has found more concentrated time to paint. He has produced 20 limited edition prints and over 800 oil paintings, and illustrated two books. Two of his paintings have been printed on clothing for the Audubon Society.
He was the Grand National Waterfowl Association's Artist of the Year for three years. He also co-founded the Dorchester Arts Center and the Dorchester Educators Art Show. He is also a founding member of SU's Ward Museum of Wildfowl Art and helped establish a formal elementary art program in Dorchester County Public Schools. He has taught at SU as an adjunct art instructor.
Meekins holds two degrees from SU: a B.S. in elementary education and an M.Ed. After many years as an elementary classroom teacher for Dorchester County Public Schools, she served as that county's first elementary art specialist. She joined the SU faculty in 1989 and taught in the Education and Art departments. Retiring as a full professor in 2004, she continues to teach part time as a professor emerita.
Meekins' son, R. Matthew Meekins, also has connections to SU, graduating in 2007 with a B.S. in marketing and a B.A. in art. He is currently an admissions counselor at SU.
Meekins worked with Jayme Block, major gifts officer for SU Advancement, to determine a lasting gift to the University that would exemplify both her love for teaching and her interest in art. Following her experience establishing the Artists of the Eastern Shore collection, she encourages any alumnus, faculty member or parent who may be considering a gift to the University to contact Block.
"Jayme works with each individual to determine a contribution that is both meaningful and financially feasible," she said.
The Meekins' gift will be spread over the next several years, with an addition to the collection made each semester. Artists work with both Meekins and the Seidel School dean to determine an artistic rendering that meets the goals of the collection and best exemplifies the work of the artist. Artists are paid an honorarium for their work, funded by Meekins.
For more information call 410-543-6030 or visit the SU Web site at www.salisbury.edu.