Friday, September 8, 2006
McGlinchey Earns Highest USM Staff Honor
SALISBURY, MD---During her career at Salisbury University, Marylane McGlinchey, advising services coordinator in the Richard A. Henson School of Science and Technology, has helped hundreds of students earn their degrees. The University System of Maryland recently presented her with the Regents' Award for Excellence in an Academic or Residential Environment (Non-Exempt) for going the extra mile in serving those students.
"For the last seven and a half years, she has brought patience, compassion and enthusiastic guidance to our science students and to many undeclared majors," said SU President Janet Dudley-Eshbach.
"She is well-versed not only in the many possible majors and minors within our Henson School, but knows well what Salisbury University has to offer across our schools of business, liberal arts and education as well. She is superb in assisting students find the right courses, programs and schedules to support their goals both within and outside of the classroom."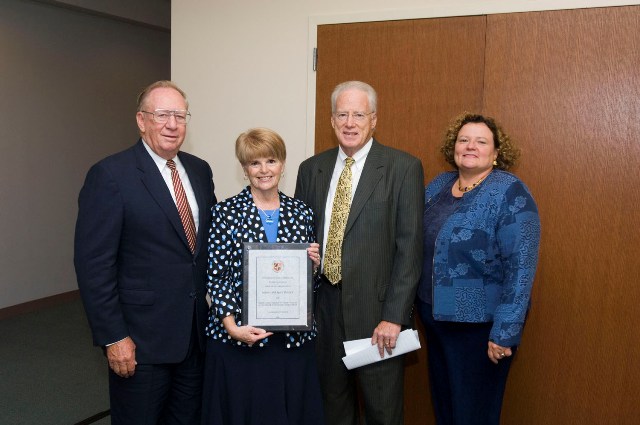 McGlinchey also serves on a number of SU committees including the Staff Senate, Varsity Club board of directors and Medical Careers Club. As coordinator and leader of the Henson School Health Professional Advisory Committee, she has promoted the placement of SU students in graduate health education.
An advocate of minority education, she wrote a successful USM Minority Recruitment Grant which supported eight underrepresented students in the Henson School. She also pioneered a new segment of SU's New Student Experience Program designed especially for these students. During the past two years, she also has been central in SU's conversion to the new PeopleSoft student record system.
"To simply say Mrs. McGlinchey is the most caring, dedicated, hardworking and knowledgeable advisor/mentor on this campus doesn't begin to recognize the depth or worth of her work at SU," said Dr. Tom Jones, interim provost and former dean of the Henson School. "Her door is always open to our students, and she opens the doors of faculty and administrators for her advisees when they need special assistance."
"It is obvious that Marylane loves people and assisting them in their life's journey," said Dr. Ellen Lawler of SU's Biological Sciences Department in nominating McGlinchey. "Her dedication and service have made a remarkable difference in the lives of so many."
For more information call 410-543-6030 or visit the SU Web site at www.salisbury.edu.