Friday, August 7, 2009
May Co-Authors Text on Moore Teaching Method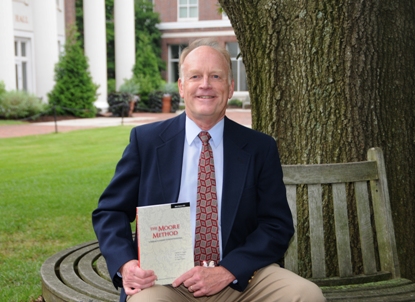 SALISBURY, MD---In 1905, mathematician R.L. Moore developed a unique teaching method using no textbooks, no lectures and no conferring.
More than a century later, Dr. E. Lee May (a self-proclaimed "Moore-on") of Salisbury University's Mathematics and Computer Science Department, has taught hundreds of students using an adapted version of that method. Now, he's helping others do the same as a co-author of the Mathematical Association of America's The Moore Method: A Pathway to Learner-Centered Instruction.
May includes a sample syllabus in the book, as do his co-authors: Charles A. Coppin and W. Ted Mahavier of Lamar University in Beaumont, TX; and G. Edgar Parker of James Madison University in Harrisonburg, VA. He uses it to show how other faculty may implement a similar structure in their classes.
"I try, for the most part, to restrict my lecturing to a maximum of 20 minutes per period, and, for example, in a calculus course, many periods will be completely taken up with students putting solutions on the board and the class discussing them," May said, adding that this hands-on approach allows students to better understand the material than hours of lecturing.
He learned to love the Moore method in the 1960s at Emory University, where he was a student of Mahavier's father and of John W. Neuberger, both of whom were master practitioners of the teaching style.
May has chaired or co-chaired three "Legacy of R.L. Moore" conferences and attended seven out of the 11 held. He has used Moore's methods throughout his teaching career, which has included stops at Emory, Kennesaw State and Wake Forest universities, as well as SU.
For more information call 410-543-6030 or visit the SU Web site at www.salisbury.edu.