Friday, August 15, 2008
Mascareri Exhibit Inaugurates Fall Cultural Events Series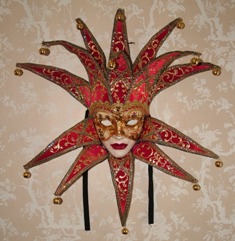 SALISBURY, MD---Americans may associate masks with Halloween more than any other event, but in Italy, masks mean Carnival!
Since the 15th century, mask-making and wearing has been a tradition in Venice. Salisbury University displays some of that city's most ornate hand-crafted masks in the Fulton Hall Foyer from August 25-September 26 during the exhibit "Venetian Masks: The Art of the Mascareri." The display is part of SU's "The Renaissance" fall cultural events series.
Venitian mask makers, also known as "Mascareri," established their own guild by 1436. Today, their centuries-old designs are making a comeback. Traditional Venetian masks fall into three categories: Commedia dell'Arte (based on traditional characters like Harlequin and Pierrot), fantasy (featuring unique designs created by the mask makers themselves) and traditional (half-mask with nose cover). All three types are on display at SU, including variants such as the "plague doctor's mask," featuring a long, hollow beak.
Sponsored by the Office of Cultural Affairs, admission is free and the public is invited. The foyer is open 8 a.m.-8 p.m. daily. For more information call 410-543-6271 or visit the SU Web site at www.salisbury.edu.