Wednesday, April 23, 2014
Maryland Senator 'Mac' Middleton Visits SU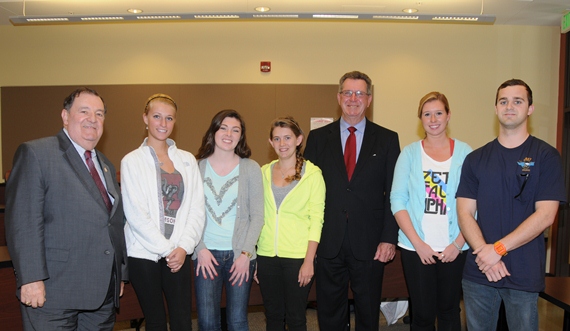 SALISBURY, MD---Maryland Senator Thomas M. "Mac" Middleton visited Salisbury University today, speaking with students about how "strong and good public policy is the key to success."

Middleton discussed some of the hot policy issues that he, as chair of the Senate Finance Committee, was involved with negotiating during the 2014 legislative session. Topics ranged from water quality regulations and Affordable Care Act implementation to raising the minimum wage.

"You better believe in what you stand for and make sure proposals are based on sound facts," he told the students. He also added: "Young people like you that's where innovation comes from."

Middleton was named SU's 2014 John R. Hargreaves Distinguished Legislative Fellow in March. The award recognizes outstanding public service and he was applauded for his "hard work, leadership roles and dedication to such important issues as education, health care and the environment" and for being "an excellent role model for students."

A four-term Senator from Charles County, Middleton is the only full-time farmer in the Maryland General Assembly. He is the 13th recipient of the Hargreaves Award, sponsored by SU's Institute for Public Affairs and Civic Engagement (PACE).

Pictured (above, from left) are House Appropriations Chair Norm Conway; SU students Holly Engel, Nicole Herrin and Chelsey Rhoten; Middleton; and SU students Jillian Berry and Kevin Forse.