Tuesday, June 30, 2009
Maryland Girls State at SU: Learning and Fun!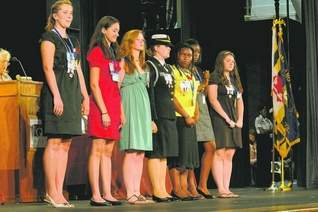 Some of the participants in Maryland Girls State 2009 line the stage of Holloway Hall Auditorium during closing ceremonies for this year's program. Salisbury University hosted high school students taking part in the weeklong national government education program, sponsored by the American Legion Auxiliary. (Laura Emmons photo, reprinted courtesy of The Daily Times)

By Candice Evans
Staff Writer
The Daily Times

SALISBURY -- Assigned to represent fictitious cities and counties, more than 130 high school seniors learned the inner workings of local and state governments at the 2009 Maryland Girls State program.

Held at Salisbury University for the first time, Girls State is a weeklong, national government education program sponsored by the American Legion Auxiliary.

"It was incredible," said Ashley Whiteman, a 16-year-old Harford County resident, who stood at the front of the line during the Girls State graduation ceremony at SU's Holloway Hall Auditorium last week. "We met a lot of intimidating women."

Every summer, nearly 20,000 young women participate in Girls State sessions across the nation. The program's alumni include former Texas governor Ann Richards, news commentator Jane Pauley and past chairwoman for the National Endowment for the Humanities, Lynne Cheney.

"It was interesting to see different aspects of government," said Rachel Burdette, 16, of Middletown. "I definitely want to get involved."

After they arrived at SU on June 21, the Girls State participants became "citizens" and were divided into two political parties, the Nationalists and Federalists. The parties allowed citizens to gain knowledge about the operation of a two-party system.

During the nonpartisan event, they participated in these instructional political parties, and elections were held to fill city, county and state positions. Activities included legislative sessions, campaigning, party rallies, debating and voting. The citizens also received special instructions in parliamentary procedure.

"Girls State brings the best and brightest students together in a mock legislative session," said Melanie Perreault, SU's History Department chairwoman and one of Girls State's guest speakers. "Hopefully some of these top students will choose government as a career."

As part of this year's program, participants also conducted an in-house collection for the Maryland Food Bank, which amounted to 199.5 pounds.

"I'm more appreciative of the privileges we have in this country," said Sibyl Brown, 16, selected by her peers for the "lieutenant governor" post.

Kirstyn Buswell, 16, of the "City Council," learned first hand that every vote counts.

"When you're old enough, you need to go out to vote in every election," said Elizabeth Williams, 17, of North Caroline High School. "You also need to be informed about what's going on."

Two participants from Maryland Girls State were selected to attend Girls Nation, a national government training program, to be held at the end of July at the National 4-H Center in Chevy Chase, Md. Girls Nation "senators" meet for a week in Washington, where they will hold mock elections for political office, campaign for the passage of legislation and meet with national government officials, often including the U.S. president.

Comfort Mudoh of Parkside High School was chosen as a "senator" this year.

"I want to thank all of your for voting for me to represent you at Girls Nation," she said during her graduation speech. "I want to thank all the parents for providing all of the girls with good leadership skills, good morals that made us such a good family."

Reprinted with permission of The Daily Times. For SU's Girls State press release, please click here.