Monday, June 11, 2012
Maryland Girls State Returns to SU Through June 22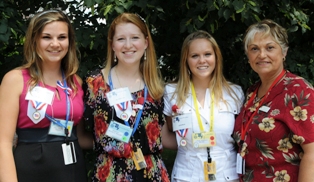 SALISBURY, MD---From June 17-22, more than 120 high school seniors throughout the state converge on Salisbury University for a hands-on look at what makes government run during the 66th session of Maryland Girls State.
Sponsored by the American Legion Auxiliary, Girls State is a non-partisan event held at SU since 2009. Participants are assigned to represent fictitious cities and counties, learning how local and state governments work, from elections to the passage of legislation.
Students meet with local and state legislators, including Salisbury mayor Jim Ireton, Maryland Delegate Jeanne Haddaway and Wicomico County Executive Rick Pollitt.
Again this year, participants hold a mock trial, learning about the judicial process and jury duty responsibility, with instruction provided by Ginina Stevenson, Esq.
Other guest speakers include Dr. Melanie Perreault, SU associate provost, and Tyler Patton, vice president of the Public Affairs Maryland Broadband Cooperative.
They are joined by American Legion Auxiliary Department President Yvonne Rhone, American Legion Commander Melvin Smullen and Sons of the American Legion Detachment Commander Edward "Buddy" Mastin.
For more information call 410-543-6030 or visit the SU Web site at www.salisbury.edu.