Thursday, June 11, 2015
Martin Named 2015 SU Employee of the Year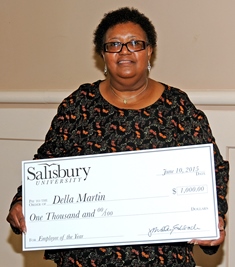 SALISBURY, MD---Della Martin, food service assistant in University Dining Services, recently was named Salisbury University's 2015 Employee of the Year.
Announced during SU's annual Employee Appreciation Day, the winner receives a $1,000 cash prize.
Martin, one of SU's 12 SU Employees of the Month for the 2015 fiscal year, was nominated in September for her positive attitude, job performance and the personal attention she provides to customers in SU's Commons.
"It is this kind of positive behavior that makes for a better campus environment, and simply taking a few seconds to ask how someone's day is going or offer them a smile, as Della does every day, makes for a better college experience in general," said her nominator, SU student Landon Grove. "When a student is very far away from home, it is such a treat to have a staff member who, very much like a family member, checks in to see how things are going."
In a letter of support, Commons Manager Doug Jones agreed that Martin "truly cares about our customers and her co-workers, and goes out of her way to make everyone's day better. I was very pleased when I read the nomination, but not at all surprised."
For more information call 410-543-6030 or visit the SU website at www.salisbury.edu