Thursday, August 15, 2013
Lower Shore Child Care Resource Center Hosts Open House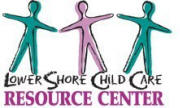 SALISBURY, MD---The Lower Shore Child Care Resource Center at Salisbury University hosts its annual open house 2-7 p.m. Tuesday, August 20.
The center is located in Suite 500 of SU's East Campus Complex at the intersection of Wayne and Power streets.
This event is designed to provide teachers, child care providers, families and community members with information on quality child care initiatives and early education programming.
This year, the event features back-to-school ideas, door prizes, refreshments, games and a book sale made possibly by the Children's Book and Toy Garden of Ocean City. There also will be representatives and exhibits from Lower Shore community agencies including the health departments, libraries, child care subsidy specialists and other programs related to wellness, infants, toddlers and children.
Part of the Maryland Child Care Resource Network, the LSCCRC is one of 12 child care resource centers in Maryland. For more information call 410-543-6650 or visit the center's Web site at www.lowershoreccrc.org.