Friday, September 19, 2008
Longtime Riders Cherish 20 Years of Sea Gull Century Memories
SALISBURY, MD---When a group of 68 avid Salisbury University cyclists embarked on the first Sea Gull Century two decades ago, Claire Williams was among them—and she's participated in every ride since.
In most recent years, the Salisbury resident biked solo; during the early years she rode an Ibis tandem bike with her son, pulling her daughter in a bike trailer. One time, not wanting to leave their newest family member home, she and her daughter towed their miniature poodle puppy in the trailer.
This year, Williams plans to climb on her Trek Project One road bike and join some 6,000 riders from across the country when the Sea Gull Century celebrates its 20th anniversary on Saturday, October 4.
"I look forward to the Sea Gull Century because it's a local ride that offers distance and great scenery," Williams said. "The years with rain or 30 mph winds just made it more of a challenge. I get total enjoyment from being on my bike. It's a stress reliever; the longer the ride, the better."
A program management specialist in SU's Social Work Department, Williams said her garage is full of bikes ridden by her and her kids: "Our summer vacations always included exploring the U.S. and Canada by bike. There is no better way to see the country. Wherever I pedaled, my kids went with me. "
Her son, Stephen Kaufman, now 26, completed his first solo Sea Gull Century at age 10. Her daughter, Ellen, now a 20-year-old junior at SU, is one of the volunteers who greets riders and cheers them on at the conclusion of the ride. Outstanding academic accomplishments and involvement as a rider or supporter since the very first Sea Gull Century, earned Ellen one of the first Sea Gull Century scholarships in 2006.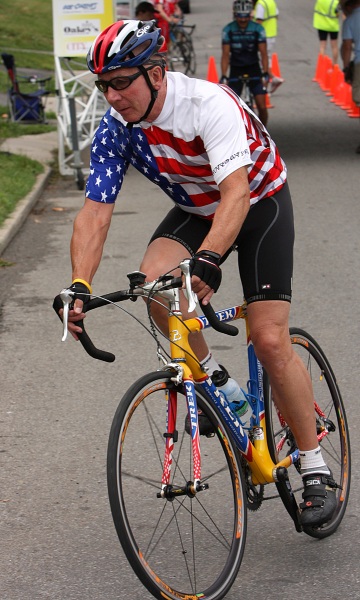 Another long-time Sea Gull Century cyclist, Bill Orndorff of Salem, VA, remembers the early rides vividly—especially one that was preceded by a hurricane.
"I took a drink of water and with everything being wet I dropped the bottle," he said. "As I grabbed for it, I hit the derailleur, popped the chain, and I went down." The crash happened only 20 miles into the ride, which went all the way into Ocean City in those days. He stopped at a bike shop near the beach, had the wheel of his old Schwinn Traveler straightened and headed back out to finish the course.
Now he bikes with his wife Earline, 56, and a group of other "mature" cyclists from Northern Virginia. "For my 67-year-old body, the Sea Gull is a way to test and see if I have stymied the aging process," he said. "It also helps keep my heart condition in check and proves to me that I am still alive and able to beat some 20-year-olds."
While Orndorff doesn't try to surpass his best ride time of 5 hours and 4 minutes anymore, he does look forward to the flatness of the course—and the fun.
"As far as a ride that is enjoyable and has fantastic rest stops the Sea Gull is it," said Orndorff, who has logged more than 73,000 cycling miles during the last two decades in places as far away as Maui and Switzerland. "It's well marshaled and the reception from the volunteers makes it so nice. I'm ready to ride in it again."
Also planning to bike in this year's century is U.S. Air Force Lt. Col. Mike "Starbaby" Pietrucha, upon his return from an assignment in Afghanistan. Pietrucha is a 2006 rider who last year completed two half-centuries through the Victory Base Complex in Baghdad where he was stationed, and event he dubbed "Sea Gull Century East."
For more information call 410-548-2772 or visit the Sea Gull Century Web site at www.seagullcentury.org.