Friday, June 30, 2017
Logan Ryan Jones Scholarship Honors Late SU Student
SALISBURY, MD---When Salisbury University sophomore Logan Jones died suddenly last year, his loss was felt not only on campus, but in the greater Salisbury community where he grew up.

His legacy will continue this fall as four freshmen will attend SU, thanks in part to four $1,000 gifts from the Logan Ryan Jones Scholarship Fund, administered by the Salisbury University Foundation, Inc.

They include Olivia Sanders Amtsberg, Ashley Bardzell, Robert Brown and Lindsey Ward. All are recent graduates of Parkside High School, from which Jones received his diploma in 2015. They will study in SU's Franklin P. Perdue School of Business, where Jones was a business economics major.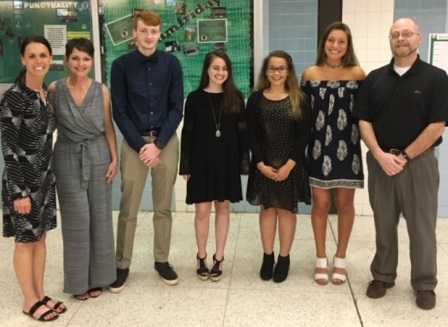 "Many loved ones memorialized Logan by contributing to this fitting scholarship connecting Parkside High School and SU's Perdue School of Business," said Amy Waters, SU director of donor relations and events.

"Logan did so much in his short time here, and higher education was such an important part of his life," said his parents, Shelley and Bob Jones, in a note to the recipients. "Logan was so giving and would be happy to be helping someone in this way.

They offered advice to the incoming students that their son also may have: "Have fun. Work hard. Treat people like you want to be treated. Never give up on your dreams.

"Try to remember that when you walk through the SU campus and into the Perdue School of Business, as Logan did so many times," they added.
For more information call 410-543-6030 or visit the SU website at www.salisbury.edu.