Friday, June 22, 2007
Lieutenant Governor, Comptroller Keynote MBE Seminar June 26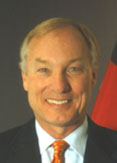 SALISBURY, MD---The Small Business Development Center and Salisbury University host the seminar "New Business Opportunities for Women and Minority Owned Businesses" 9 a.m.-2 p.m. Tuesday, June 26, in the Great Hall of Holloway Hall. Maryland Lieutenant Governor Anthony G. Brown and Comptroller Peter Franchot keynote the event.
"The number of certified minority business enterprises (MBEs) on the Lower Shore is very limited, and the University is hopeful that this outreach program will be the springboard for an increase in certified MBEs and small businesses for the region," said Jack Spence, SU procurement director. "SU is reaching out to MBEs and small businesses to help them better understand how to do business with the University and the University System of Maryland."
All state agencies are required to do 10 percent of their business with certified small businesses, and strive to meet the Maryland State MBE Program goal by spending 25 percent of all procurement dollars on MBE firms.
The event presents an opportunity for women and minority business owners to network with local city, county and state procurement officers on the Eastern Shore. Organizers seek to educate small business owners on how the procurement process works, how to become minority certified to stimulate their participation and broaden contract opportunities for business owners.
The seminar also provides vendor resources for government procurement officers to use in solicitation notification and contract fulfillment and showcase the wide variety of goods and services government agencies procure.
Speakers will cover information regarding certifications and registrations, procurement tips, strategies and marketing. Face-to-face networking time follows a luncheon from 1-2 p.m.
Registration is $25 per person, including lunch and all materials. For registration form and additional information call Jennifer Layton at 410-543-6516 or e-mail jwlayton@salisbury.edu.