Tuesday, April 27, 2010
Liberia Peace Educator Vonhm Benda Speaks at SU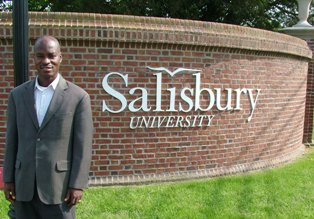 SALISBURY, MD---"How do you talk about peace when the person who caused you harm is sitting right next to you in the same classroom?" asked Mainlehwon Ebenezer Vonhm Benda.
The founder of Liberia's Center for Peace Education, Vonhm Benda said that is the most challenging question he faces every day, as former child solders sit in the same classroom as people their armies once harmed and displaced during the nation's 14-year civil war. Fortunately, all have the same goal: to learn the principles of acceptance, love and non-violence on the road to healing following the four-decade struggle.
Vonhm Benda, himself a survivor of the war, recently spoke to students at Salisbury University at the invitation of Dr. Thomas Boudreau, chair of the Conflict Analysis and Dispute Resolution Department. During his visit, he discussed means of transitioning and peace during conflict—something he learned much about firsthand during his youth.
"I decided to teach peace so Liberians today and the world as a whole will not have to go through the violence I experienced," he said.
At the Center for Peace Education, Vonhm Benda and others use expression through the arts—drawings, poetry and music in particular—to help former soldiers and victims channel their anger into more peaceful outcomes. The center opened in 2009, providing a new resource for many Liberians struggling to move on from the war.
Vohnm Benda's visit to SU coincided with a tour of the United States, during which he visited other areas including Florida, Wisconsin and Washington, D.C., to help raise awareness of and funds for the center. He encouraged students at SU who may consider internships and study abroad opportunities at the center to learn more at its Web site, www.peaceedu.org.
For more information call 410-543-6030 or visit the SU Web site at www.salisbury.edu.