Friday, August 17, 2012
Lewis Family Donates to Nabb Research Center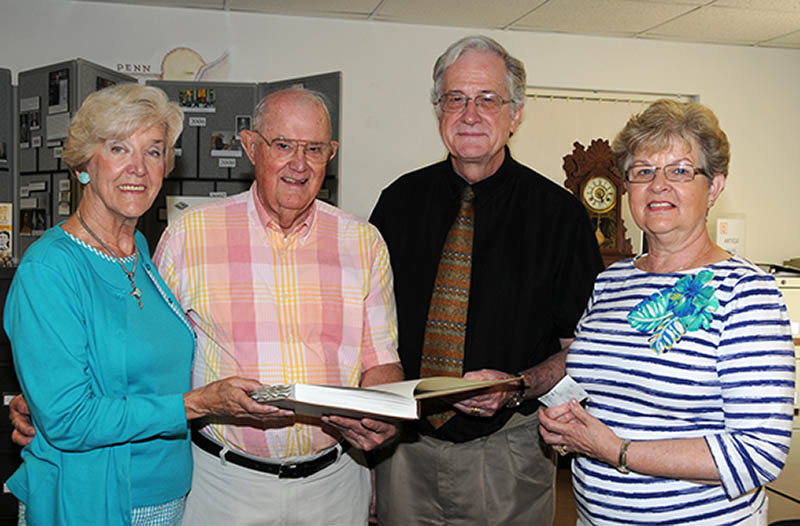 Pictured, from left: Tita Lewis, Don Lewis, Dr. Ray Thompson and Barbara Glover.

SALISBURY, MD---For Milford resident Don Lewis, Salisbury University's Edward H. Nabb Research Center for Delmarva History and Culture provided a window to the past.

Inspired by his own family reunions, he became interested in learning about his ancestors. Using the center's resources, Lewis traced his family back to the mid-17th century as it migrated from Accomack County, VA, to Somerset and Worcester counties in Maryland, and eventually to Sussex County, DE.

"I ended up spending many happy days and hours at the Nabb Center with volunteers who kept handing me more and more useful information," he said.

He turned that research into a monograph, detailing the family's history, and donated the final result to the center for other researchers and genealogists to use.

"Mr. Lewis has done a great job tracing his roots and compiling this well-documented account of the Lewis family," said Dr. Ray Thompson, Nabb Research Center director. "We encourage others who are interested in their heritage to build on his research and use the center's resources to find out more about their own families."

As Mr. Lewis' family became smaller and its gatherings dwindled, the reunion committee decided to donate the remainder of its treasury to the Nabb Research Center in gratitude for its help in preserving the family history. Members of the family, including Barbara Glover, made the presentation to Thompson.

"The Nabb Center is a little gem on Delmarva, and we would like to see it continue and grow," said Lewis.

For more information about the Nabb Research Center, call 410-543-6312 or visit the center's Web site at www.salisbury.edu.