Tuesday, January 29, 2013
Lecture, Exhibit Explore Salisbury Haitian Migrant Community February 4-May 10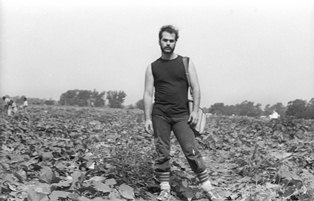 SALISBURY, MD---As an outreach worker for migrant farmworkers in Salisbury in the mid-1980s, Phil Decker amassed a large collection of documentary photos and field notes.

His collection provides Salisbury University's Edward H. Nabb Research Center for Delmarva History and Culture with a significant historical perspective on the origins of the Eastern Shore's Haitian community, initially comprised primarily of those fleeing political and economic upheaval in Haiti in the 1970s and '80s.

Decker presents the lecture "Documenting a Haitian Migrant Community" 7 p.m. Monday, February 18, in the Nabb Research Center Gallery, 190 Wayne Street. Fritz Jeudy, a caseworker with Telemon Corp., joins him, sharing insights about the Delmarva Peninsula's current Haitian community.

An exhibit of Decker's work, spotlighting farm crews in Florida and on the Eastern Shore, on the road, in the field, in labor camps and in town, is on display at the gallery February 4-May 10. Hours are 1-4 p.m. Monday, Wednesday and Friday.

Decker studied at the International Center of Photography in New York City and has created photo documents of immigrant communities throughout the United States. Sponsored by the Nabb Research Center, admission to his lecture and exhibit is free and the public is invited.

For more information call 410-543-6312 or visit the SU Web site at www.salisbury.edu.